— Jake English and the Legend of Sleepy Hollow —
TT: Has he been sleeping in the old man hollow again? Shit, that's adorable. 
GG: I can think of cuter places for him to sleep, frankly! 
TT: Yeah, bullshit. 
As you can see, there was a conspicuous mention of Sleepy Hollow in the conversation Jane had after Lil' Seb emerged from the neck of Poppop's corpse, decapitating him. And the references to it haven't ceased since, not even since Dirk's decapitation.
Also known as the tale of the headless horseman-
…it entails the supposed rise of the ghost of a decapitated Hessian soldier, still riding at night and searching for his severed head.
Sort of like the wish Jane carved into the seedpod in Myststuck.
After all, she didn't carve all of Jake into it:
Only his HEAD.
The headless horseman who chases Ichabod Crane in the tale is said to be carrying his own severed head at his saddle… at least how Ichabod saw it. In various popular depictions of the story, like the Disney one I saw fifty times as a kid, it was depicted for what it really was: A PUMPKIN, a firey Jack-o-lantern which at the climactic moment, the ghost THREW into Ichabod's face!
TG: k but it aint pardoned because a pumpkin aint even a fruit 
TG: its a big orange porch thing for holloween numbnuts 
(Note Jake's trickster-mode pumpkin-adorned head, as well.)
The reason it was a pumpkin and not an actual head? Because ghosts are fake as shit. In the original tale, it's implied that a suitor competing with Ichabod for a woman's hand impersonated the ghost from the campfire story they'd all been told, in order to run the outsider of Mr. Crane out of town never to be seen again.
And given the compounding evidence that Lord English is planning to somehow gank and possess Jake's body or corpse after he's proven himself by defeating his possessed surrogate, Jack…
uu: HE MAKES NO BONES ABOuT GANKING MY LOOK. 
uu: IT'S PATHETIC. 
uu: YOu DON'T JuST GO AND JACK A MAN'S SWAGGER. 
uu: THAT'S THE CARDINAL FuCKING RuLE OF BROS. RIGHT?
uu: PROBABLY SOME DAY.
uu: I'LL TEACH HIM A LESSON FOR THAT.

ARANEA: He has had many incarnations in many universes. 
ARANEA: If you continue on your journey for long enough, you may encounter one of them. 
ARANEA: And if you have 8ecome strong enough 8y then, you may 8e a8le to defeat him in com8at. 
ARANEA: And if that comes to pass, it would 8e the first defeat he has ever known. 

GT: But hey you are the lord and i am the lowly page. 
uu: DAMN STRAIGHT. 
uu: NEVER FORGET WHO YOU ARE MEANT TO SERVE.

uu: IF I HELP YOU REACH YOUR FULL POTENTIAL. AS A PAGE OF HOPE. YOU COULD BECOME EXTREMELY POWERFUL SOME DAY. 
uu: MAYBE EVEN POWERFUL ENOUGH TO POSE A CHALLENGE TO ME. OR MAYBE EVEN ENOUGH TO BEAT ME. 
uu: WHEN I SAID "MEANT TO SERVE". SERVE MEANT MORE THAN ONE THING. YOU KNOW. LIKE KICK MY ASS?? 

GT: Are you ripping me off bro?? 
uu: NO YOU FUCKING MORON. 
uu: IF I STOOPED TO YOUR LEVEL. AND DECIDED TO JACK *ANY* PORTION OF YOUR SWAGGER. 
uu: DON'T YOU THINK. YOU'D NEED TO EARN MY RESPECT FIRST???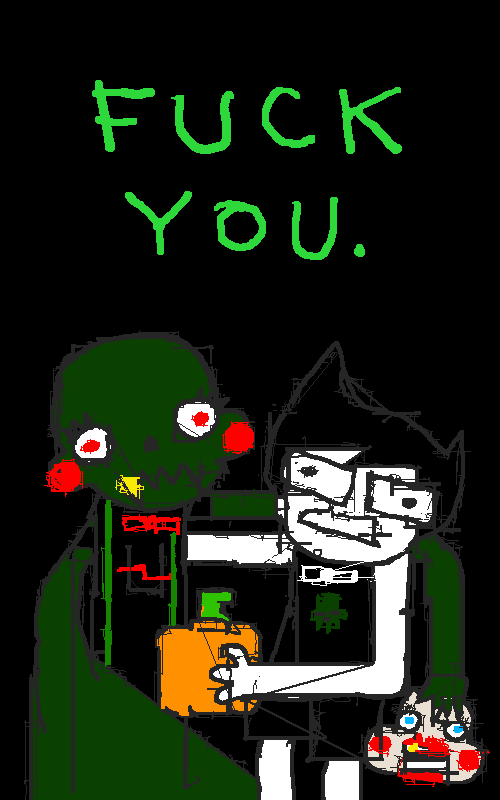 …it's a good bet that at some point, somehow, LORD ENGLISH'S HEAD will erupt in place of Jake's own!
GT: Indubitably. Rest assured it feels like a brood of anxious vermin is making its most valiant effort to escape from my skull. 
Don't think there's enough evidence yet? Well, I'm not done. Keep reading under the cut, because these aren't even HALF the references to this. Don't you remember exactly how Lil' Seb emerged from Poppop to kick off this Sleepy Hollow thing in the first place? :)
(EDIT 2/20/2013: Added a Weekend at Bernie's reference from the latest update.)
(EDIT 3/3/2013: Added a parallel from Tavros's latest appearance.)
If Lord English's head were to burst out in place of Jake's own at some point…
"this is some lame magical version of capture the flag. the book wanted me to capture the flag from him. the flag has now been captured. anyway, hes just a kind of brainless puppet."

GT: There are some feelings im not sure how to put into words yet and doing it in front of you whether youre a stunt double or brain puppet or whatever it just makes me feel uncomfortable!

ARANEA: Who were you talking to, if you don't mind my asking? 
JAKE: That was like… 
JAKE: The brain ghost memory splinter of my best friend dirk who is stuck in my head and you cant see. 
JAKE: And he was kinda hassling me and trying to get me to talk to him about how his real self has a thing for me but i kind of think it would be weird to talk to his brain impostor about that? At least for now. 
JAKE: And then you showed up and you caught me at an awkward moment where he was threatening to make some bodily functions happen in front of you as a joke which would have been embarrassing as all blasted heck. 
JAKE: But now it turns out you can read my mind too so im surrounded by brain invaders! 
…then take a look at this. Here's Seb waking up from "sleeping in the old man hollow" again, for you, with some other 'unrelated' images interspersed for convenience:
Both emerging from a stuffed corpse. Fitting isn't it? Both because Seb is closely tied to Lil Hal, the likely eventual origin of Doc Scratch, and because of all the Weekend at Bernies references that seem to flaunt the idea of one of Jake's corpses, like a stuffed and brainless Scarecrow, being puppeted around at some point in Jake's place.
Weekend at Bernies? Classic. You really think John would like this movie, if the things you have heard about him are true. Guys in cahoots make the silly corpse of Bernie Lomax do zany puppet antics so their schemes can succeed, guffaws aplenty, as you have tried to tell Jade before practically verbatim.

GT: I would have loved to give her a proper and dignified memorial like janes granddad got. 
GT: God jane is so lucky every day in her household must be like weekend at bernies! What a riot it must be im so jealous. 
TT: Yeah, what a fucking treat. 
TT: A living room corpse party every goddamn day. 
GT: I know right!!! 

GT: Doesn't that mean they also knew they weren't going to be able to stop the witch? 
TT: Probably. 
TT: But they went down fighting anyway. 
GT: Wow. 
GT: Thats brave and kind of sad. 
TT: Yeah. But wouldn't you? 
GT: Of course!!!!! 
GT: You always go down guns blazing. Thats what a hero does when he loves adventure and has guns. 
GT: If theres one thing movies have taught me besides the fact that guys using a corpse as a silly puppet is friggin HILARIOUS it is THAT FACT.

DAVESPRITE: i did her a favor cutting bird dave out of her life 
DAVESPRITE: nobody really deserves bird dave as a boyfriend or a friend or anything its like getting one of the janky daves from the bargain bin at the dave depot 
DAVESPRITE: or one of the marked down daves the day after national dave day 
DAVESPRITE: its like somebody taxedermized your dave and expected you not to notice 
DAVESPRITE: "feathers what feathers haha no that dave is totally normal and ok" 
At the very least, that'd be a kinder way to have him possessed by LE later than having LE's green skull messily emerge from his neck while he's alive: the stuffed corpse-puppet of a body of Jake's could become the (plush) Host for Lord English. (Though with the resurrection methods available if he's going to gallivant around with Vriska in the afterlife, that corpse may very well be his main one, having died a heroic death by beheading!)
This all should bring Rufioh to mind, too!
MEENAH: didnt you have a totally fuckin stupid robot body at some point or did i just imagine that
MEENAH: that whole period of time in our session was reel foggy to me i guess because i was dead for a while there
 #maybe i got the ghost madness
 #could SWEAR you was a metal horse tho
RUFIOH: yeaaah…
(…)
RUFIOH: so she made me a cr*pple, remember?
MEENAH: tag that shit homie
 #abaloneism
RUFIOH: d*mn, yeah… 1 mean, she busted me up… couldn't move a muscle… well, could st1ll flap my w1ngs well enough, haha…
RUFIOH: really, 1 thought 1t would be alr1ght, just flapp1ng w1ngs around… 1 could st1ll fly and just hang there l1mp… m1ght have been a dope look!
RUFIOH: but nah… horuss thought better of 1t. bu1lt me the robo-bod, wh1ch was pretty t1ght…
 #l1ke l1terally…
 #screwed that sh*t together T1GHT!
 #dude 1s good
RUFIOH: lost my w1ngs though wh1ch sucked… and k1nd of awkward just hav1ng a real guy's head on top of a b1g metal body and mak1ng all those d*mn legs move the r1ght way, you know… trott1ng 1s hard work yo.
 #espec1ally on sta1rs…
 #}:(
Not only was he once paralyzed so he could only fly himself around motionless - quite similar to being puppeteered, don't you think? - he also got his head cut off and placed onto a robotic horse body! Talk about the "headless horseman" references not letting up.
Jake's had an uncomfortable number of paralyzation references, too! In his vocal parallels to the other Page, Tavros, hinting at something with Vriska:
> "Jake: Make out with all of them."

Dear, sweet Neytiri from James Cameron's Avatar.

Oh, if only you were the one who could have overcome his paralysis on an alien adventure planet to become her boyfriend, instead of that other guy.
And not just paralyzation, but his repeated blows to the head.
Luckily you were wearing your trusty SKULLTOP, preventing a more serious concussion.

TT: Yeah, great idea. Let's roll up our sleeves on nuanced metatemporal mechanics with the concussion-addled kid in micro-shorts. 

Ow, your head. The old noggin has been getting a workout lately, and you don't mean the kind you get from puzzles. Good thing your trusty SKULLTOP took some of the brunt. Also, good thing your trusty SKULL took the rest of it. The sturdy bone really makes for a splendid backup helmet, you think.

uu: SAY WHAT YOu WILL. 
uu: ABOuT THE BITCHES. 
uu: AND THE BRAIN DAMAGED JACKASS IN SHORTS. 
Not to mention that Xenon, from the title of his land, is used in treatment methods for brain damage as a neuroprotectant.
His head is in the most danger, but heads have been coming off quite often, lately. Even severed heads related to pumpkins, like with Jack!
You sever the guard's head with your most trusted of all trusty knives, and begin sizing up that hollowed pumpkin. 

It will definitely be snug, but you think you can make it fit.
You don't care what anyone says. You say this pumpkin was MADE for this fucker's melon. Fits like a damn glove.
And do you remember what the other pumpkin he received did?
It carried Cal, allowing Lord English to possess him!
It's as if the pumpkin itself represents a head, one's "gourd" as it were, and that's what's being invaded from the inside and ganked somehow!
GG: That is, you are still taking credit for the mysterious disappearance of all those pumpkins I grew years ago? 
TG: f yeah 
TG: i so gonked your gaurds jane 
GG: … 
GG: Did you gank them when my gourd was down? 

GT: Sorry you know how things can slip my mind. The gourd on my shoulders isnt the steel trap it used to be. Nothing like the well oiled puzzlebuster you've got up there. 
Gourd ganking is serious business, and seriously related to Jake in more ways than that! Do you remember when he was wielding a pair of golden pistols in that short act-flash where we saw him fighting alongside Dirk?
Those ostentatious pistols are a reference to Castor Troy, Nic Cage's character in the movie Face/Off, where the main character happens to have a dangerous terrorist (Castor) switch faces with and impersonate him!
So… how do we know this didn't just all mean Dirk Strider's decapitation in Synchronize, and that all these possession references are worrying but unconnected to the Sleepy Hollow stuff? 
Some of the most blatant, in-your-face, easy to recognize decapitation foreshadowing did indeed come before the Dirk: Synchronize flash where the horseman lost his head:
The Myststuck references.
The Jailbreak Jack references.
The more severe half of Jake's head-trauma references.
And there was indeed some separate foreshadowing for what Dirk would do.
Obviously you can only send what you can fit inside there. You had to send Jake your brobot piece by piece, barely managing to squeeze that shiny melon head in there.

GT: Why is this a metal man before me or is it none other than dirk strider himself in my room?? 
TT: One thing at a time, bro. I haven't quite figured out a way to get myself there yet. 
GT: It almost sounds like this is something youve given some thought… 
However, the foreshadowing subtly continued WELL AFTER Dirk: Synchronize for all this Sleepy Hollow business, as I've extensively covered above. The effect of this, to the unattentive, was that a bunch of heavy foreshadowing was set up for decapitations around someone, causing us to worry, and then got suddenly and abruptly cashed-in all at once with Dirk, seemingly, causing us to think everything was fine.
"So that's what the decapitation references were for! Whew, Jake's skull is safe, guys. Pat yourselves on the back."
But as the more cleverly hidden continuing foreshadowing indicates… That was all part of Andrew's trick. Or rather, Lord English's trick.
uu: YOuR ATROCIOuS TALE IS FuLL OF SO MANY SHITTY RED HERRINGS. AND YOu ARE THE SHITTIEST. BY FAR. 
uu: OH LOOK. THIS MAN IS NOT WHAT HE APPEARS TO BE. OR IS HE? NO HE'S GLASSES. 
uu: THE MYSTERY IS SOLVED. WHO GIVES A FuCK. 
TT: It sounds like you don't even know what a red herring is. 
uu: BuLLSHIT. I AM BASICALLY THE MASTER OF ALL RED HERRINGS. 
uu: THEY SWIM THROuGH MY VEINS. THIS WAY AND THAT. 
uu: YOu HAVE TO BE VERY GOOD AT RED HERRINGS. WHEN YOu ARE AS GOOD AT GAMES AS ME. 
Dirk's decapitation was in part a RED HERRING to distract from Jake's!
This is one of the most powerful kinds of red herrings the plot can pull: it lets Andrew dramatically foreshadow something, make you think it's been cashed in, and then have the true cash-in later with something larger and Andrew's lined up several just like it for some of the story's major events!
Bec Noir, powerful as he became in the beta kids' session, was a red herring villain to the kids: he more of an orchestrated force of nature, and became comparatively impotent the moment PM rose up onto the scene, having served his purpose by destroying the universe and provoking the Sun's creation, so that Lord English himself could appear and enter play!
Jane Crocker's mind-control tiara was shown alongside a slow discouragement and descent into depression for her, bringing her to her conspicuously damaged and lowest point right as Caliborn and Calliope sent the kids their Juju codes. It was seemingly the perfect point to have her turned into a controlled antagonist via the tiara… but it didn't work, and Jane suddenly sprung straight out of her funk into a super-happy Trickster Mode! The initial failure of the tiara and complete reversal of Jane's mood was a red herring for us, however, to distract from her being mind-controlled just after ascension and set on the path to role inversion.
Lil Hal and Dirk kept repeating the "Over 9000" meme, which refers to a scene in Dragonball Z where Vegeta, the Saiyan prince, crushes his red-lensed scouter. This was taken for foreshadowing that Dirk (a destroyer of souls) would do the same to Lil Hal, his glasses! However, though he cracked and nearly broke the shades, Dirk decided against it and prototyped him into Arquiusprite, seemingly marginalizing him into a musclebound goofball. This is actually a dangerous red herring: Arquiusprite is stabilizing, learning not to swear and to regret his possession of the concept of remorse, thus prefacing his transformation into the machiavellian AI antagonist that works against the kids and eventually becomes Doc Scratch and his magic cueballs! Dirk will need to crush that pair of shades after all.
And the most dangerous one of all…
To the left is a drawing of nothing in particular. Nothing you understand, at least. This is a symbol which has haunted your visions for as long as you can remember.
The spiral-suction of the Red Sun was a big, fat Red Herring!
Because even the Green Sun's creation was a red herring that seemingly cashed in all the foreshadowing about it being destroyed! When in reality, some of the destruction foreshadowing has yet to be cashed in, when Vriska turns the Green Sun into the Black Hole that punches a breach in Paradox Space, breaking the 8-ball into its pocket on all reality.
So you can see…
Wow. Huh. Really got off topic there for a minute.
Anyway, you can now see that all this foreshadowing for Jake losing his head has been conspicuously continuing, long after it was supposedly ruled out. Even almost as recently as you can get!
With all the evidence that Jane is paralleling Damara, the one who broke Rufioh's neck and paralyzed him, it's quite ominous to see that fragile, severable neck in her arm, isn't it?
GG: Will you teach me your ways one day, sir? Perhaps an apprenticeship will open? 
TT: Oh god, I'd love that. 
TT: Consider the position yours for the taking any time. Feel free to approach and kneel before Cal. With my sword and his floppy mitten, you will receive my flashstep anointment shoulder to shoulder, and to shoulder again.
And not only is that paragraph one of a pile of evidence for Jane's recruitment to the opposition, we already covered what happens when you slice a sword between someone's shoulders.
Poor HEGEMONIC BRUTE. His time in the spotlight has been cut tragically short. You almost feel sorry for the guy. 
(EDIT 3/3/2013: And even more recently, we see Tavros:
…the other Page, wearing almost Jake's same color, same shorts, and with a blood red handkerchief around his neck! Talk about hammering in Jake's decapitation wherever he gets the chance!)
With one possessed by Lord English (corpseways at least) and the other cursed upon killing the Condesce…
Jake and Jane - English and Crocker - will likely be the final obstacles in the alpha session.
If I had to venture a wild guess about what's going on with this whole corpse/Sleepy-Hollow thing with Jake, though, in terms of an order of future events… I'd use that 'time in the spotlight cut tragically short' reference. As I alluded earlier, I think there will be a long period of time where Jake English has seemingly been killed for good, maybe decapitated and his head stitched back on, with his corpse perhaps stuffed and definitely puppeted around like Weekend at Bernies. (Maybe to keep Jane from realizing he's dead?) In the afterlife, however, he may join Vriska, and together she, he, and Tavros would find the AURYN and use it to resurrect themselves. At some indeterminate point after or before that, Lord English would somehow possess Jake's inert corpse - maybe via his other horcruxes - perhaps even acquiring his dangerous Page of Hope powers this way.
At least, well… that's an optimistic guess. Don't hold me to it; you're free to interpret all the foreshadowing I've listed on your own, come up with your own series of decapitation- and gank-involving events that fits the pattern in the evidence above. :)
Your reign of terror comes to an end here, on this balcony overlooking an enchanted cliffscape host to innumerable gorgeous stallions. How ironic, that your very demise would be in the proximity of some horses. What? You didn't follow that? Just think it over. Think it over…
Beware the headless horseman!