— Crocker and English —
Wow, that is the shittiest theory image I've ever made.  I've made better but it's mostly 'shopping other images…
(Here's a much better looking rebloggable quick-post that links to this, if you want to spread this theory!)
So anyway, the point I'm going to justify under the cut is that English and Crocker will embody the final bosses in the alpha session.  Not Lord English and Betty Crocker, but Jake English and Jane Crocker — Jake's body possessed by Lord English after Jake defeats him, and Jane corrupted, inverted, and having killed Her Condescension and inherited her curse.
And there's heaps of evidence for all of this combined.
(EDIT 2/27/2013: Added recent evidence and a link to the Sleepy Hollow post.)
(EDIT 3/2/2013: Added a quote from Homestuck Book 2 and some DBZ references.)
(EDIT 6/16/2014: Colored some chat excerpts and added one more at the very end to tie it all together.)
uu: WHEN I SAID "MEANT TO SERVE". SERVE MEANT MORE THAN ONE THING. YOU KNOW. LIKE KICK MY ASS?? 
So yeah, first of all, Jake is going to lose his body to Caliborn.  And when Caliborn says he meant Jake'd "kick his ass", he was full of shit-
…well, actually he wasn't.  Caliborn meant both things at the same time.
There were a few hints to this here and there.  For example, Lord English supposedly discovered the "secret to immortality".  And with his only known demonstration of that immortality - an immortality curse brought on the Handmaid - the curse is transferrable upon the victim's murder, Her Condescension receiving the Handmaid's curse after killing her.
His curse is one of conditional mortality, with the desired outcome contingent on her service.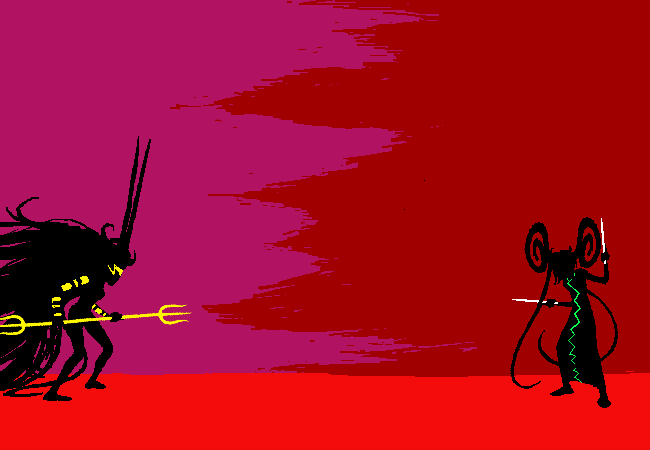 The two last trolls alive, blood of rust and royalty, will make each other pay for the crimes against their race. Their payment will be mutually dealt in the currency of punishment and reward at once. The Condesce will be rewarded with the power and immortality her new service entails, and punished by the grueling slavery for which it is synonymous. And you, young lady, are to be punished by death at the hands of your replacement. And so too will this be your reward.
So doesn't it stand to reason that Lord English's immortality might function in a similar fashion?
Oh, and not that the Condesce's curse would go uninherited:
Perhaps ((The Condesce)) grew complacent with the threat successors posed, after such a long history of killing them with ease. Heiresses upon reaching maturity were expected to challenge the Condesce for the throne.
Jane, anyone?  But I'll get to that; back to Jake.
So there was some reason to believe that Caliborn might employ possession, sort of like the way he treated Doc Scratch's body as a host.  And evidence built toward Jake being the victim, though it was scarce.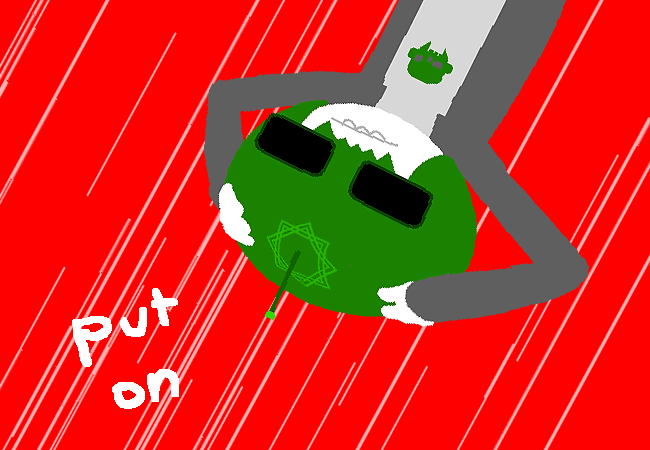 uu: LOOK AT THIS.

uu: FuCKING SHAMELESS.

uu: EITHER HE IS LIKE.
uu: MY PERSONAL ONE MAN FANDOM.
uu: KIND OF LIKE. A HYPOTHETICAL SuRROGATE FOR ALL MY POTENTIAL ADMIRERS.
uu: OR.
uu: HE IS A WORTHLESS HACK.

uu: HE MAKES NO BONES ABOuT GANKING MY LOOK.
uu: IT'S PATHETIC.
uu: YOu DON'T JuST GO AND JACK A MAN'S SWAGGER.
uu: THAT'S THE CARDINAL FuCKING RuLE OF BROS. RIGHT?

uu: PROBABLY SOME DAY.

uu: I'LL TEACH HIM A LESSON FOR THAT.
After all, we had a little bit of endgame foreshadowing we suspected things might tie into, back from before Jade Harley's entry.
EB: in my foolishness, i came very close to prototyping your grandpa. 
GG: D: 
GG: john, try to be more careful! 
EB: we very nearly had to face our grandfatherly paradox-dad as a last boss. 
EB: that would probably be the worst case scenario. 
GG: um….. 
GG: what?
But it wasn't spelled out so blatantly until recently, when things went from "maybe!!" to "oh, well DUH".
I mean, look at this:
uu: BUT WHAT I'D REALLY LIKE TO DO. IS GROOM A WORTHY ADVERSARY.
uu: IF I HELP YOU REACH YOUR FULL POTENTIAL. AS A PAGE OF HOPE. YOU COULD BECOME EXTREMELY POWERFUL SOME DAY.
uu: MAYBE EVEN POWERFUL ENOUGH TO POSE A CHALLENGE TO ME. OR MAYBE EVEN ENOUGH TO BEAT ME.

GT: Ive never been accused of having a photographic memory but i dont recall you typing in green either.
GT: Are you ripping me off bro??
uu: NO YOU FUCKING MORON.
uu: IF I STOOPED TO YOUR LEVEL. AND DECIDED TO JACK *ANY* PORTION OF YOUR SWAGGER.
uu: DON'T YOU THINK. YOU'D NEED TO EARN MY RESPECT FIRST???
Does it get more obvious than that?  :)
Jake English is going to defeat Lord English, and then Lord English is going to possess Jake's body.
With potentially grisly results.
Yes, I'm insinuating you imagine Lord English's head there.
(EDIT 2/27/2013: It turns out there's a MUCH STRONGER series of connections between those images and Jake English than we thought!
TT: Has he been sleeping in the old man hollow again? Shit, that's adorable. 
GG: I can think of cuter places for him to sleep, frankly! 
TT: Yeah, bullshit. 
Even after Dirk's decapitation, Act 6 has been full of references to the Legend of Sleepy Hollow… the tale of the Headless Horseman, with Jake as the pumpkin-slinging horseman himself! 
Read the full post: Jake English and the Legend of Sleepy Hollow. There are PAGES of evidence for Jake's decapitation and possession!)
Now, Jane Crocker is set to join him, unfortunately, due to her long and winding path down into destruction.  It's the saddest of all, and it unfolds something like this:
…because Jane Crocker is following Damara Megido's storyline, on a disastrous path to antagonism.  <—  (Read that full post for the evidence.)
This is why John and Jane have such similar starting stories, the same environments, heritage, and Act 1 gags repeated for them both.  John is the one who succeeds, the little nerdy kid with a Dad, a pranking streak, and an ordinary life surrounded by cakes, who ends up taking a fantastic journey and ending up as one of the strongest heroes of all.  Jane is meant to be the one who fails.  The exact same nerdy sort of kid - older, too - raised by the same Dad in the same house, the same frivolous optimism and pranking streak, going and growing on this same fantastic journey, eventually wielding the most powerful weapon of the group with the most strength to swing behind it.  Only, this child falls.  And falls hard, turning against Life and descending into malevolent destruction.
You could see it in their symbols!
If Jane inverts her title, there's evidence that she'd wield the power of a Bard of Doom. And inheriting the Condesce's curse after killing her, she'll serve at Lord Caliborn's side. (A quote eskan137 pointed out:)
GG: Will you teach me your ways one day, sir? Perhaps an apprenticeship will open?
TT: Oh god, I'd love that. 
TT: Consider the position yours for the taking any time. Feel free to approach and kneel before Cal. With my sword and his floppy mitten, you will receive my flashstep anointment shoulder to shoulder, and to shoulder again.
(More of that beheading imagery, if you're creative with the shoulder-to-shoulder stuff. It keeps happening with Jake and LE and such… wonder if LE's head emerges from Jake's body when possessed?)
(EDIT 2/27/2013: Jane has finally been put under )(er Condescension's mind control, robbed of her free will (Life) and imbued with inorganic machinery (also a Gurren Lagann reference), Sollux-like black eyes, a psychotically smiling love of destruction, and a Red color the inverse of her typical Cyan! I think it's fair to say her inversion has started its course. As I detailed and reiterated in my post at the time:
As gryphcat implies, Jane is not completely inverted, nor at her lowest point, as I predicted it.  (…)  She's just on the fast track to true inversion.

Stage One is Jane being driven inverse by the tiaratop and essentially mind-controlled.  Stage Two is her driven to stay inverse WITHOUT the tiaratop, likely by seeing Roxy kissing Jake or seeing her dead Dad or related shenanigans.  Stage Three is killing the Condesce and inheriting her curse.  (There may be points of lucidity where she ceases acting as inverted for short stretches before something plunges her back down into misery each time.)

The way the theory goes, Jane will eventually turn on and kill )(er Condescension, once given enough impetus.  With the breaking she's yet to do to her, the Condesce will have inadvertently created a weapon she couldn't completely control!  And the idea is that when Jane murders her, plunging to her truly lowest standalone point even with the mind control broken, she'll inherit the Condesce's immortality curse, becoming a servant of Lord English.
After all, this isn't the first time the Black Queen has been murdered by her servant and had her power stolen by someone even more destructive and dangerous!)
(EDIT 3/2/2013: Recently, kodfish pointed out that Homestuck: Book 2, page 21, holds this author's note at the bottom:
"Heh heh, John sure does irrationally hate Betty Crocker, the harmless baked goods corporation, doesn't he? Surely this is just a silly running gag and won't come back to haunt us in any significant way. Right? I mean… it just can't… could it? That would be blowing a gag way too far out of propor-oh fuck Crocker's gonna be last boss, isn't she." (sic)
Note how even though this was an obvious reference to )(er Condescension, it says "last boss" (same phrasing as John said alluding to Grandpa/Jake earlier), even though we figure the Condesce would be defeated well before Lord English! If Jane and Jake were the last bosses, then wouldn't the author's note still be true, 'Crocker' being a final boss alongside English?
And it's also interesting how these quotes keep referring to them as "a last boss", or "a boss", or even omitting (typo-ways?) the pronoun altogether in the book quote… because it's not "THE" last boss if two of them are working together!
Jane also bears a startling resemblance to Majin Buu (click the link to see) from Dragon Ball Z, a capriciously destructive (Bard-like) pink villain who started out controlled by a wizard, a wizard who magically branded his "M" symbol on his corrupted servants' foreheads (like the Pisces symbol on Jane's!). Buu turned people into candy (a Life tie sort of reminiscent of Jane's lollipop spree), always reconstituted himself from any injury, started out fat and happy (with white, normal eyes) but was turned far more evil (with red-circle pupils on black EXACTLY like Jane right now), eventually killed the wizard that commanded him and became a villain in his own right, and absorbed the powers of those he defeated (just like she's meant to get at least the Condesce's curse, and also - depending on the nature of the golden tiara - perhaps even a bit of psionic power, though we can't yet say)! This comes amid not just a slew of instances of the DBZ-entailing phrase "Over 9000", but was followed by an intentional reference to DBZ (its Hyperbolic Time Chamber and various individuals' high-gravity training chambers) by Dave:
DAVE: so i said no hard feelings i still like you and all, do whatever makes you happy ill just be over here in the hyper gravity chamber training to beat lord english 
KARKAT: WE HAVE A HYPER GRAVITY CHAMBER??? 
DAVE: no 
KARKAT: OH 
…meaning the resemblance was likely intentional!)
So, now you have "English" and "Crocker" as main foes.  Didn't you find it strange how not even the alpha trolls had different last names, but this pair did?  :)
The reason I made this post wasn't to reiterate the above points to everyone, as I've been crowing 'em for a while.  The reason was to highlight a little more evidence.  One last nail in the sarcophagus.
A friend of mine posted today explaining the connection between Liv Tyler's eyes and some visual foreshadowing we'd seen earlier.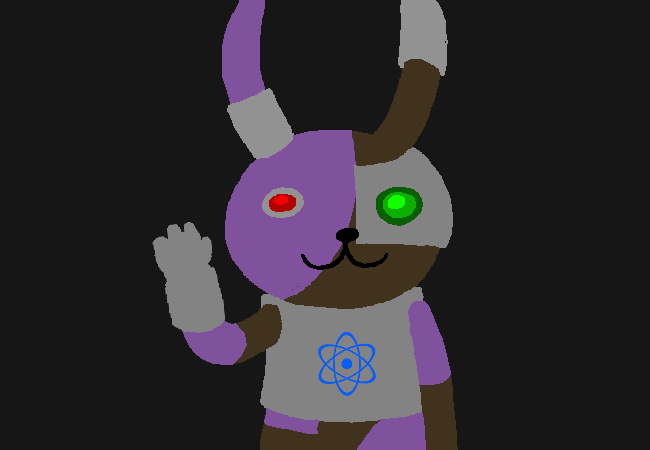 As my friend put, Green means grow, Red means shrink:  Green for creation, Calliope, and red for destruction, Caliborn.  (Note that the green eye was consumed and destroyed!  And Calliope has to be restored if we want our story to have a happy ending.)
(EDIT 2/27/2013: The red and green eyed opposition metaphor has been repeating itself lately, both with a creepy Zilly Santa and - more prominently - our twin servants of the Condesce!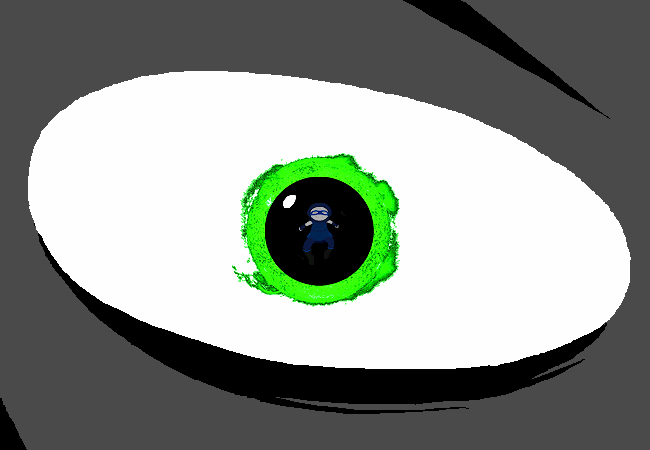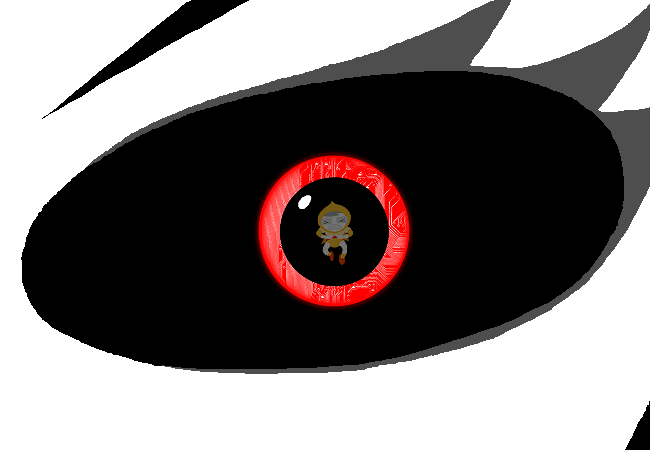 Red with a black background representing destruction, and Green eyes with a white background representing creation! Not to mention how the dual red on black eyes with Jane mirror Lil Hal and the sarcophagus in [S] Caliborn: Enter.)
What my friend tied this with was some foreshadowing Lil' Hal gave us earlier.  When he was installing the Sburb game - and tons of copies of Delirious Biznasty - on Jane and Jake's computers, he placed the red game on the eye of each background image, sort of like Caliborn's red irises.  Earlier, we had foreshadowed that this meant Jane and Jake might somehow facilitate Caliborn's predomination or rise to power, or later, that it was perhaps more evidence of all the above.  Especially given that the one who placed them, Lil' Hal, is the original source of Doc Scratch and his iterations!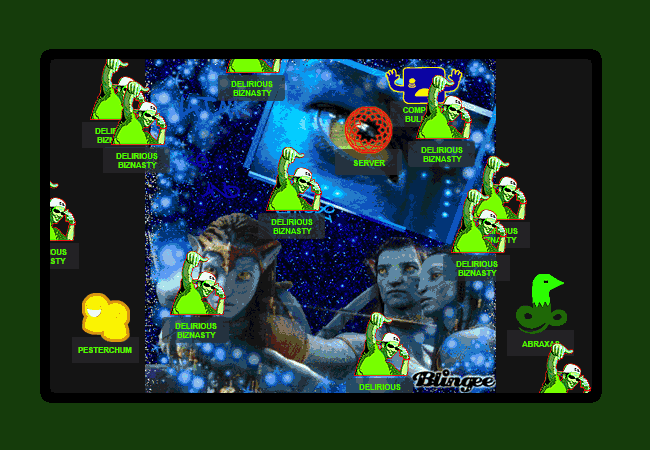 A right eye (our left) for Jake, corresponding with Caliborn's side of Liv Tyler's eyes…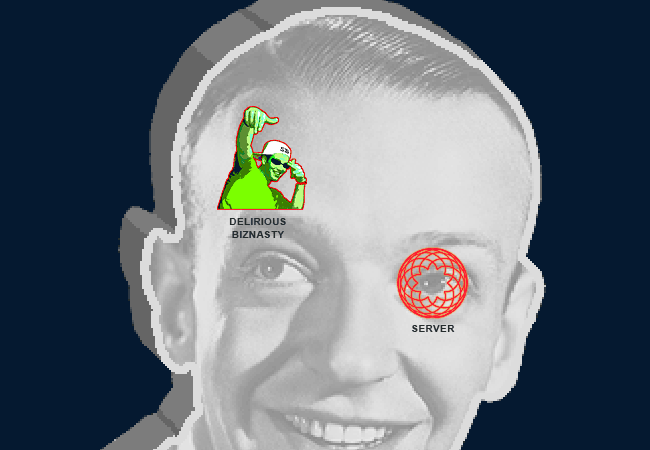 And a left eye (our right) for Jane, corresponding to Calliope's green eye on Liv Tyler.
In addition to fulfilling a silly bit of a Problem Sleuth reference…
It looks like there are two holes in the mural. They are spaced far apart, just wide enough for someone with sensible human anatomy to look through with both eyes.
This happens to line up with Caliborn and Calliope giving away their halves of what is perhaps the "ultimate weapon" Vriska is hunting, their combinable jujus.  (Which has been confirmed to resemble the AURYN AMULET from the Neverending Story, in form and perhaps function.  And if so, it's no wonder Jake could beat Lord English, a Hope player given that sort of power.)
Caliborn - lining up with Jake in the eye pattern - gave him his part of the artifact.  Past!Calliope messaged Jane and gave her hers.  Together, they'll be able to combine the two jujus for the first time… and since Lord English is possessing Jake and recruiting Jane, HE'LL be the one in control of the combined artifact!  No wonder this is the location of the final battle.
But that's not what I noticed when I looked at my friend's post.
What I noticed, in the images, was that aforementioned and metaphorical final nail.  Something so blatant that it should have been obvious, in retrospect.
Look at the above image.  What are the game icons labeled??
They're labeled SERVER!
uu: NEVER FORGET WHO YOU ARE MEANT TO SERVE.
Through a stolen body and a cruel curse respectively, Jake English and Jane Crocker will end up serving Lord English.
.
.
.
GG: I care very much for you, and I don't know what I'd do if I lost you both in my dreams, and here in this world.
GG: So for whatever good it does, just please be extra careful out there today!
GT: Roger that janey!
GT: And um same goes for you about being careful what with these various rogues accosting you with foul play lately and whatnot…
GT: Because well i sure do care a lot about you too you know that.
GG: Hooray! Will do. ;B
GG: Now let's get this silly old adventure off to the races before the coat of dust it's growing gets any thicker.
GT: Booyeah!