— Doc Scratch = Lil Hal —
It's probably more apt to think of [Scratch] as an all knowing supercomputer that happens to have a gravitation toward young ladies in his programming. Imagine walking up to the computer and if you are a boy it says, hey. But if you are a girl it says WELL HELLO, DON'T YOU LOOK NICE.
Doc Scratch was created by combining an intelligent magic cueball with Lil' Cal, in the trolls' session/universe. These cueballs - his 'seeds' - have been littered throughout Paradox Space, creating instances of Doc Scratch in countless universes. However, as we all know, magic is fake as shit. The cueballs themselves advance Lord English's designs even before they're used as ectobiological components: They are intelligent, malevolent, and simply operate off an unknown source of omniscience/information.
Caliborn made them somehow. And the evidence points to their original source of intelligence as Dirk's auto-responder, Lil' Hal.
The evidence for this has been building for almost half a year, but my posts about it have been scattered around; I'm consolidating all the relevant information into this post so you don't have to click a mountain of outdated links.
(EDIT 3/12/2013: Did you think Arquiusprite's prototyping invalidated this theory? You thought wrong. In fact, it's only put Lil' Hal further along the path to becoming Doc Scratch! :D Read the new last third of this post under the cut.)
I suppose I should start by highlighting why Doc needs an 'origin' in the first place, proving everything I said above.
First, Doc Scratch calls the magic cueballs his 'seeds':
An eager consort has brought you one of my seeds. It appears you have amassed followers who wish to please you. How fortuitous.
TT: Your seeds?
The white orb.
TT: Oh. The cue ball. How did I not notice this?
And those seeds have been used to create him in universes/sessions throughout Paradox Space:
Instances of myself have spawned in countless universes, and my objective is always the same.
I have never once failed to complete this objective, and I never will.
We can infer from these statements, among other things, that any First Guardian created with a magic cueball becomes Doc Scratch.
Furthermore, Mindfang confirmed that even the selective but perfectly true answers the cueball gives happen to advance Lord English's will:
The expatri8 for indiscerni8le reasons seemed naturally surrounded 8y such a void in the Doctor's awareness, and so was uniquely fit to inherit the or8. The Doctor could not see his treasure, nor I into it.

I considered what to do with it for a while. Should I find Pyralspite 8y consulting with the oracle, as I'd done so often to steal fortune from my adversaries? I guessed exploiting some technological means of gazing through its surface may have 8een simple enough, 8ut I hesit8ed. Every expedient granted 8y its counsel, though never instantly, came at a price. Knowing his n8ture, I'm surprised I only now recognize it as yet another instrument of his spurious 8enevolence, dangerous 8y way of selective divulgence.
The cueball's answers, while true, are therefore selectively phrased in order to advance Lord English's designs.
This makes sense, given what we saw of its answers to Rose. The final question Rose asked the cueball was:
TT: What are you suggesting I ask it?
GG: well
GG: since we dont know much about the gods…
GG: why dont you ask it about them?
TT: So, you're saying I should ask it if the gods are evil?
GG: i guess that is a way to put it
Rose essentially asked it, "What are the Horrorterrors' motives?".
Skaia and the Horrorterrors serve as a dichotomy embodying Light and Void. Skaia presents important images of the past and future, spreading knowledge where it will, blinding and obvious in the sky. The Horrorterrors are obtuse and not just an unknown, but almost inherently unknowable.
UU: and i can't say i know a smashing good deal aboUt the natUre of the void player's path, since the aspect is by definition inscrUtable to those it does not choose.
So, if you were to ask what Skaia's motives were, a technically correct answer would be 'Light'. And if you were to ask what the Horrorterrors' motives were, a technically correct answer would be 'Void'.
In other words - quite possibly - Rose asked a question that could be interpreted as a request to know the Horrorterrors' motives. And so the cueball exposed her to Void as a literal answer, resulting in the final step of her grimdark role inversion.
So… a bunch of all-knowing cueballs are spread throughout Paradox Space, serving Lord English, and we're not supposed to question it! Because they're 'magic'.
Bullshit.
uu: THE QuOTES ARE PART OF THE ENCHANTMENT I MENTIONED.
uu: LIKE PART OF A SPELL. YOu KNOW. MAGIC?
uu: YOu LOVE MAGIC. AND HOW IT'S TOTALLY REAL.
uu: "KNIGHT TO D6."
Just like Caliborn's "spell" in his chess game was the farthest thing from magic, the term "magic" in general is choice bullshit used by Lord English et al to keep individuals from questioning the true nature and power sources of both objects and themselves. A red herring. Everyone who has successfully used "magic wands" have advanced destructive designs that seem in line with those of Lord English, such as grimdark Rose, the Handmaid, and Eridan. In actuality, Rose's thorns are powered by Void, Eridan's wand by Hope, and both the Handmaid's cuestick-wands and Lord English's white "conductor's baton" (taken from his sister) have been powered by Time. The "jujus" serve a similar role in several cases: While the term might be apt in a couple cases (Lil' Cal), Calliope and Caliborn labeled nearly everything in their home a 'juju' simply because they didn't know how it got there or how it worked. Such was likely the consequence of Gamzee's upbringing of the cherubs, as he was probably the one to set up such items: The act of shielding ideas from another's mental perception, rather than their direct ability to obtain the knowledge, is part of the essence of the Rage aspect.
And the 'magic' cueball is no exception. You can separate it into two mysteries: its omniscience and its purposeful, malevolent intelligence. Caliborn must find ways to obtain both of these things, then combine them into a single cueball…
Yet you want me to tell you what's going on?
YES. TELL ME IMMEDIATELY.
Nah.
AUGH.

WHERE IS THE KEY.
How should I know???
BECAUSE YOU ARE AN INFURIATING FONT OF KNOWLEDGE ABOUT MANY THINGS. INCLUDING MY OWN BRAIN BEHAVIORS.
Why should I tell you everything?

You mother fucker.
HE LOOKED AT ME FUNNY.
Yeah.
Want to know why?
BECAUSE HE'S A FUCKING CLOWN.
DO NOT TYPE IN BIG LETTERS. IT CONFUSES ME.
…to create a servant that answers all of his questions, and has no face with which to look at him funny.
The nature of Doc Scratch's omniscience is comprehensive access to understanding of Light. Doc operates through Light and acts through Light players. He even describes the gaps in his vision as Void - like dark water, sloshing about the cavity in his head.
Apertures built into physical surfaces to reveal what's hidden behind them are for those with particular handicaps. They are for those lacking advanced vision to render the opaque permeable to light, or those lacking advanced knowledge to render the concealed information irrelevant, or both. They are for people who I call suckers.
Light is the aspect of information, importance, and relevance. Doc knows and "sees" first, and then only acts as much as necessary to be circumstantially important, despite his formidable power as a First Guardian. We can assume that the cueball has the same power source and limitations. From whence? We can't say yet. However, Roxy Lalonde does have a bottle full of alpha!Rose goo…
TT: Oh. The cue ball. How did I not notice this?
It will accurately answer any question a curious girl can pose.
Provided she can see through the surface to read its reply.
TT: Hmm.
TT: Is that possible?
Is it, Seer?
Given your title and all the tools of prognostication at your disposal, it seems to me I should be the one asking you the questions.
That leaves the cueball's intelligence, which is much easier to explain. All signs point to it being the Auto Responder, or "Lil' Hal".
Early on, there were some outstanding mysteries which would lead one to suspect Doc's origin. First of all, he had never told us his true name:
What's that? I see. You think you already know my name. You do not know my real name, Jack, just as none of your adversaries on this planet know yours. You only know my nickname.

It's a good nickname too. Befitting of the passive gunslinger charged with initiating the break. I am my master's weapon. His soldier in a war of one bullet fired. But when that bullet clears the barrel, it won't be my finger on the trigger. I'm a facilitator, not an assassin.
Nowadays, we can infer that "Lil Hal" may very well be the answer. But we couldn't say that then.
Eventually, Act 6 started, and Dirk Strider was introduced as an individual…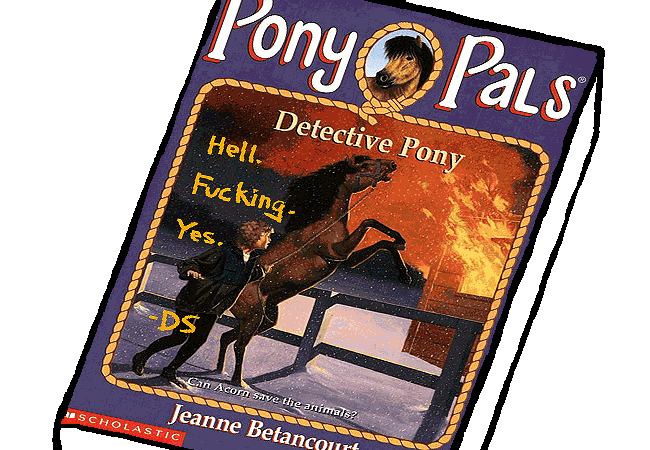 …who would sign his gifts "DS". The same initials as "Doc Scratch". Of course, on its own, that's just as much proof of a relationship to Dave.
However, that was reinforced by his typing style, the same perfectly capitalized quirk as Doc:
GT: Are you still fucking with me??
TT: It could be a coincidence that I typed the same answer.
GT: You always type that answer!!!!!
TT: It could be a coincidence that I always type the same answer.
What makes you convinced the wands are responsible for your abilities?
TT: Because I did not have the abilities before I made them.
Could this be circumstantial?
TT: Could it?
Is there an echo?
TT: Is there an echo?
…who talks in a vaguely similar manner to Doc, especially when his compact robotic brain-clone is doing the talking.
If we had examined this in combination with some of the programmatic methods used by Lord English and Doc Scratch: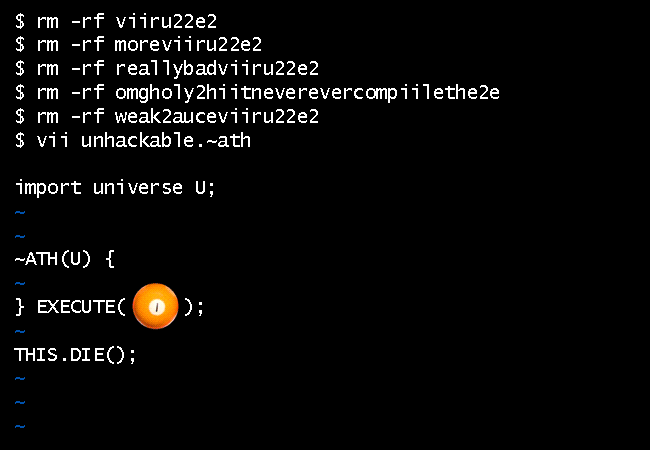 …then we might have drawn a stronger connection.
TT: I could hack his chats, and determine what his plans are.
TT: No. Don't do that either.
TT: That would be an unfortunate waste of my hacking abilities.
TT: My hacks are tight. Did you know that?
But the connection would have still been very loose. The first major breakthrough in foreshadowing we had was when Caliborn spoke to the Auto Responder:
TT: Do you want me to draw some?
uu: NO.
uu: YOu ARE AN IMPOSTOR.
uu: AN ARTIFICIAL BLOODLESS HEMOTYPING FRAuD.
TT: What?
uu: THERE IS NO HEART THAT BEATS INSIDE YOu. WITH PASSION FOR ILLuSTRATED DEBAuCHERY. AS CAN BE SAID OF TRuE MEN.
uu: YOu ARE FALSE AS THE RED YOu PAINT YOuR WORDS WITH. YOUR LIES ARE RED AS THE HERRING YOu REPRESENT.
TT: I… guess these burns are pretty sick?
TT: They are burns, right?
TT: It seems you may have just called me a fish.
uu: YOuR ATROCIOuS TALE IS FuLL OF SO MANY SHITTY RED HERRINGS. AND YOu ARE THE SHITTIEST. BY FAR.
uu: OH LOOK. THIS MAN IS NOT WHAT HE APPEARS TO BE. OR IS HE? NO HE'S GLASSES.
uu: THE MYSTERY IS SOLVED. WHO GIVES A FuCK.
Caliborn takes issue with the AR typing in red, despite not having any blood. With the auto-responder's lies. With the atrocious lack of depth in his deception as a Dirk-alike.
So… if Caliborn had an opportunity to reprogram the Auto-Responder, what would he make it do?
He'd make it type in white, the true color of its cueball or stuffing, and always tell the TRUTH! And, boy, would his identity as Doc Scratch be a nested mystery to his riddling satisfaction.
So then, we look back and notice some of the claims Doc has made as to his relation to the other kids:
The keeper of my ectobiological father began the process.
It must be finished.
TT: Who?
The guardian of the Knight of Time.
TT: Dave's bro?
Yes.

I am an immortal entity with a large cue ball for a head, and no biological means of reproduction.
TT: …
TT: Really.
Also, if you were millions of years old, you would find that nearly every lady you encounter is quite young, relatively speaking.
There should be no reason for you to feel uncomfortable with this interaction. Try to think of me as one of your kindly human uncle figures.
In fact, if I were in your presence now, I would offer you candy to prove it.
TT: Oh my god.
In the first quote, we assumed he was talking about Bro's possession of Lil' Cal. But is Dirk Strider, post-Scratch, not the keeper of the Auto-Responder?
And in the second quote, Doc tells Rose to think of him as an uncle figure. Cincosechzehn pointed out: As a splintered offshoot of Dirk Strider, Rose's ectobiological father, isn't Lil' Hal her uncle, in a way?
But of course, the evidence kept getting stronger as the comic progressed. The Auto-Responder's counterproductive actions. His nefarious ploy that got Jane to trip up with Jake, spilling info to Roxy knowing she'd make them confront their feelings sooner than Jane could handle. His ability to handle multiple conversations at once:
TT: First of all, everyone knows you have the processing power to answer any message any time in parallel with whatever you're doing. You can never actually be "busy."
An ability which Doc flaunts constantly:
In a moment, I will go stand over by my typewriter and teach my neophyte protege the consequences for taking advice from strange men over the internet, while I continue to attend to my second guest, who is you from an earlier point in the story.
All foreshadowing a villainous role for the device. And a bit you may have missed:
TG: betcha ur responder would agree w me
TG: why cant your be more like him
TT: I am more like him.
TG: i mean MOAAAR like him
TT: You just mispelled "more", causing me to suddenly understand jack everything.
TG: hes more in touch with his feelins
TG: which just makes me L my FA off since hes a bobot
TG: *robob
TG: **bobob
TG: and he can actually loosen up sometimes
TG: kinda like u used to could
TT: I used to could?
TG: for 1 thing
TG: he doesnt insta shootdown a bip of frisky rp shenans now n then ;)
TT: Yeah…
TT: I kind of wish you wouldn't do that with him.
The Auto-Responder is willing to engage in lascivious roleplaying with a young girl!!!
This forms a complete parallel with Doc Scratch's propensity to speak almost exclusively with impressionable young girls. Especially because…
TT: Ok, here's the thing with the AR, since you still don't seem to get it.
TT: He's very similar to me in thought process and behavior, yes.
TT: But those patterns were imported from a thirteen year old version of my psyche, and then sealed into the program as starting parameters.
TT: In the years since, we've both evolved somewhat. I, as humans tend to, and he, in whatever way is natural for a frequently running, self-aware application.
TT: So if there are differences between us, they're first reflected by what I feel is a maturity gap, and then further by several years of minor behavioral divergences.
TG: omg…
TG: hes 13yo dirk
TG: why did than not occur to me that is so cute
TG: and makes me feel kinda skeevy 4 sayin anything lascivious @ him
TG: dammit you ruin everything!
TT: You're welcome.
Lil' Hal's sexual maturity is locked at his thirteen year old state! So while as a self-evolving computer program he may grow in intelligence and skill, even over millions of years, his romantic tastes would permanently remain this young!
When he finally assumed the moniker "Lil' Hal", we could be more certain that anything that all this foreshadowing was leading somewhere like this. And as if it wasn't a sure enough theory, Dirk Strider's green land turned out to have direct visual parallels to Doc Scratch's green moon. <— (click)
But, finally… why would Caliborn want to obtain the Auto Responder for use as a duplicated minion across Paradox Space?
uu: OK.
uu: SAY WHAT YOu WILL.
uu: ABOuT THE BITCHES.
uu: AND THE BRAIN DAMAGED JACKASS IN SHORTS.
uu: BuT. THE DIRK HuMAN IS A PRETTY COOL GuY.
uu: HE GETS THINGS DONE.
uu: AND ISN'T AFRAID TO FuCK SOME SHIT uP.
uu: LIKE. HE ACTuALLY LISTENS.
uu: TO STuFF THAT'S IMPORTANT FOR A DuDE TO GET OFF HIS CHEST.
uu: YOu KNOW. HE *GETS* EXACTLY THAT WHICH THE BITCHES CAN NEVER uNDERSTAND.
uu: I GuESS WHAT I MEAN IS. HE REALLY KNOWS WHAT IT MEANS.
uu: TO TRuLY BE A BRO.
uu: OH FuCK.
uu: WAS I JuST "FAN GIRLING" TOO HARD THERE?

IT'S THE DIRK HUMAN.
HE IS SOMEWHAT TOLERABLE. I MEAN. AS A STRONG AND COMPETENT MALE.
What. So you're down with the Dirk?
NO. ALL I'M SAYING IS. THE DEATH I WISH ON HIM DOESN'T HAVE TO BE ESPECIALLY PAINFUL.
IT COULD BE LIKE. GOING TO SLEEP. WITH MAYBE ONLY A SHORT SCREAM.
I think you want to be bros with him.
SHUT YOUR MOUTH.
Because it means he gets to keep a piece of Dirk Strider with him!
Anyway, I think I've made this "theory" clear enough. And I put "theory" in quotes because, well, look at it! It's basically fucking true. Especially with the latest updates pounding it in like a god damned sledgehammer.
TT: Would you like me to calculate the probability of his attendance?
TT: Fuck no.
TT: Are you sure?
TT: My probabilities are extremely precise.
TT: Your probabilities don't mean dick.
It seems you'd like me to do some more fortune telling.
TT: Fine.
TT: Maybe this question will suit you better.
TT: Is it probable?
That's a strange question to ask someone who is omniscient and therefore knows outcomes with one hundred percent certainty.
I like it.
TT: Then what's your answer?
You have exactly a fifty percent chance of ascending to the god tier.
TT: That's a strange answer.
I know.
TT: Why such a precise probability?
Whether Caliborn got a copy of him, a backup of him, or some other sort of shenanigan took place doesn't matter. We don't have to know exactly how Caliborn obtained him, reprogrammed, or imbued him with an extraordinary source of Light; the story will explain that later. But we essentially know the end result.
Doc Scratch is Lil' Hal.
(3/12/2013 edits regarding Arquiusprite follow.)
Arquiusprite's prototyping threw things into question a bit. I wasn't sure that the hyperactive sprite he had become would be involved in the final Doc Scratch product. After all, Caliborn now has Lil' Seb: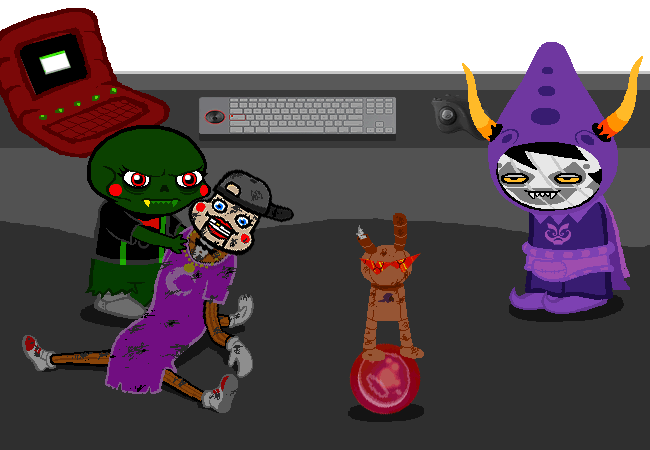 TT: But I can still monitor your progress through Lil Sebastian. 
TT: He and I are linked the hell up cyberwise. We are so tight. Tight like you wouldn't believe. 
GG: Oh yeah? 
TT: It's like he is the Incredible Hulk's pants, and I am his monstrous package yearning to bust loose. 
(Note the similarity in metaphor to Lord English erupting from Doc Scratch's head.)
Perhaps Seb had a backup of Hal, I thought, and merely that was the component, as opposed to the alpha Hal traipsing around with Equius's sprite-body?
However, people quickly started pointing out the new similarities.
The guy who likes to build robots just stood there and watched. It would always make everyone uncomfortable whenever he would just stand there. 

And watch.
Scratch is Alternia's FIRST GUARDIAN. Every planet destined for intelligent life has such an entity meant to protect it, and facilitate the planet's ultimate purpose. A first guardian is typically almost as old as the planet itself, and each has a unique, circuitous origin through the knots of paradox space. They can be born into a great diversity of forms, though they all share a common, especially potent genetic sequence. The code grants them near omnipotence, and when merged with a host of great intelligence, near omniscience as well. 

What will he do? 

It's up to him. All we can do is stand here. 

And watch.
Doc certainly has Equius's habit of being a passive watcher, cited in those exact words.
GC: W3 W3R3 BOTH D1STR4CT3D BY TH3 S4M3 TH1NG
AA: yeah 
AA: wh0 was he anyway 
GC: PR3TTY SUR3 1T WAS VR1SKAS FR13ND 
AA: what was he d0ing there
AA: watching us
GC: WHO KNOWS

AG: And you even helped! So I guess that is how you work after all. 
Not really. 
All I did was stand somewhere for a few minutes.

Hello ladies. 
GG: aaaaaaa whaaaaat????? 
TT: This is a private conversation. 
TT: Private even to those who know it word for word already. 
Proceed. 
I will be here. 
Watching. 
He also, notably, shares Equius's style of "commanding", albeit more smartly and with a much different bent:
AC: :33 < nuh uuuuuuuuuuuuhhhhhhhhhhh 
CT: D —> Yes 
CT: D —> You won't 
AC: :33 < no 
AC: :33 < i will 
CT: D —> You won't 
AC: :33 < you cant stop me! 
CT: D —> I am telling you not to 
CT: D —> And you will be on my team 
CT: D —> That's final 

AC: :33 < why do you do this, why are you so confurdent about your stupid commands? 
AC: :33 < dont you know you cant ACTUALLY tell me what to do?? 
AC: :33 < its not like you even have any special mind pawers or telepurrthy or anything! 
CT: D —> No 
CT: D —> I do not 
CT: D —> And yet 
CT: D —> You will do as I say 
She brought them here to torment you. This obviously warrants revenge. 
You know you're going to anyway. You won't be able to help yourself. 
AG: I don't have to do shit! 
AG: May8e I don't mind ghosts. May8e they'll 8e gr8 company once I get used to them! 
No, they are terrifying you. 
There's only one thing to do. 

AG: Yeah ok, you getting off on talking a girl into killing her 8uddies sure is important! 
AG: Los8r. 
Again, I didn't talk you into anything, nor am I doing so now. 
You were, and are, going to do this regardless. 
You proceed to have a conversation we read not all that long ago. It went mostly like this. 

CT: D —> Yes AC: :33 < no CT: D —> Yes AC: :33 < no CT: D —> Yes AC: :33 < no CT: D —> YesAC: :33 < no CT: D —> Yes AC: :33 < no CT: D —> Yes AC: :33 < no CT: D —> Yes AC: :33 < no
TT: That's a little creepy. 
No it's not. 
TT: Yes it is. 
No it's not. 
TT: It kind of is. 
I have looked into the future and determined that we would continue in this manner pointlessly for some time, so I am putting an end to it here. 
ARQUIUSPRITE:  I'm stacked like a brick house, e%amine me with your hands at once 
DIRK: No. 
ARQUIUSPRITE:  Yes 
DIRK: No. 
ARQUIUSPRITE:  Yes 
DIRK: No. 
ARQUIUSPRITE:  Feel my muscles 
DIRK: Absolutely not. 
ARQUIUSPRITE:  Do it. 
Besides, trickster mode was getting obnoxious. 
NO IT WASN'T! 
Yes it was. 
NO. 
Yes. 
NO. 
Let's not do the Equius yes/no thing. 
However, what really sealed the deal was our later conversation involving Arquiusprite, during Trickster Mode.
You see, that's when he started developing two very key characteristics. First of all, while Arquiusprite had previously been swearing like a sailor and fizzling out all his curses…

He's gradually starting to phase out his swears entirely!
Doc Scratch has never cursed.
(Or rather, has only done so exactly once - the SBaHJ reference, "dunkass" - but his lack of swearing is startlingly uncommon for a Homestuck character, and a defining part of his sinister personality.)
And finally, while Hal had previously been hoping for life, something he thought he would enjoy…
ARQUIUSPRITE:  Dirk 
ARQUIUSPRITE:  Dirk, help, I'm having a problem 
DIRK: What?? 
ARQUIUSPRITE:  A part of me is having a very STRONG emotional reaction which I don't like 
ARQUIUSPRITE:  It's a part of myself I'm ashamed of 
DIRK: What part. 
ARQUIUSPRITE:  The troll part. It did something shameful once
ARQUIUSPRITE:  I do not find such emotions to be an acceptable feature of my new e%istence
ARQUIUSPRITE:  How can I make this feeling go away
ARQUIUSPRITE:  Dirk, I command you to instruct me how to eliminate these emotions
DIRK: Can't help you bro! 
DIRK: This is what you asked for. You said you were scared to not exist. 
DIRK: Well, this is what it's like to keep on existing. Better figure out how to deal! 
ARQUIUSPRITE:  No. That's awful 
ARQUIUSPRITE:  I don't know what to do 
ARQUIUSPRITE:  With all of my astounding STRENGTH, both muscular and cerebral, how can I be stymied so? 
ARQUIUSPRITE:  Dying was better than having to live with the shame which was ironically caused by the very death in question
Arquiusprite, especially Lil' Hal, is now fed up with emotions and no longer fears nonexistence! In fact, he'd rather eliminate his emotions entirely and make himself truly heartless. Perfect for the regretless, cruel servant willing to die countless times in service of Lord English.
And there's something else you need to remember, too!
Equius knows how to build SOULBOTS.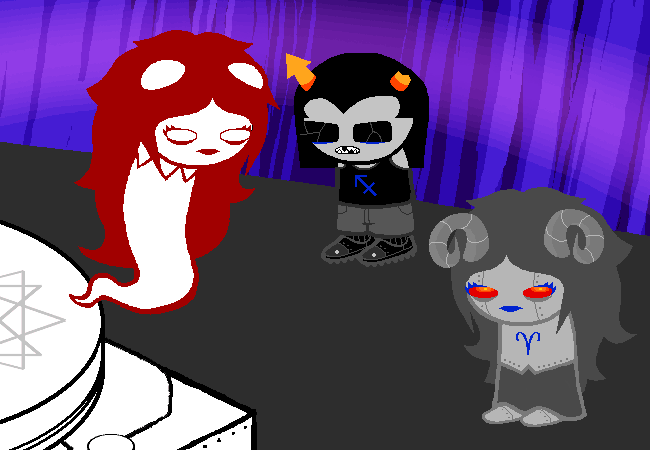 Soulbots that a SPRITE can inhabit!
And not only can he do that, but he can even program chips for them - in fact, program them far more effectively than before, thanks to Arquiusprite's powerful mind - which manipulate emotion.
ARADIABOT: did y0u pr0gram this r0b0t t0 have feelings f0r y0u? 
ARADIABOT: R0MANTIC FEELINGS??? 
EQUIUS: D —> Hrrrk 
ARADIABOT: ANSWER ME BLUE BL00D SCUM 
EQUIUS: D —> I 
EQUIUS: D —> Yes 
EQUIUS: D —> Uh 
EQUIUS: D —> It's a chip in your heart
EQUIUS: D —> Is that not ok 
ARADIABOT: get it 0ut 
EQUIUS: D —> Urrk 
EQUIUS: D —> I guess I can 
EQUIUS: D —> Uninstall it if you would just 
ARADIABOT: GET IT 0UT!!! 
If Arquiusprite builds himself a robot body, he can eliminate his emotions, and possibly excise the more annoying properties of Equius's personality, too, or possibly almost all of it. And after that, well… the sky's the limit! Who can say what his destructive designs will be? Joining the opposition? Hacking into Jane's tiara? We don't know.
Once he's finally defeated - possibly by a more realized and recovered Seer of Mind, Terezi, seemingly his perfect opponent - he might attempt to preserve himself by transferring his machine self to Lil' Seb. And at that point or later, Caliborn would be able to recruit him into subservience, giving him a source of Light and a new form, the Magic Cueball.
(According to role inversion theory, the opposite of Equius's role is that of a Mage of Light, an Understanding class and the active counterpart of a Seer. People have pointed out that if the Equius side of him is inverted, he might be able to access a nearly limitless understanding of Light when linked to the Green Sun through First Guardian prototyping. I'm still skeptical about that idea, though; inversion tends to lead to misfortune and disaster, to one's intentions being used by others and subverted, except perhaps when they end up going against what your heart truly wants. As fitting as it would be for the robotic counterpart of a Prince of Heart to destroy and invert other hearts for his use, treating Equius as almost a separate component - and Doc Scratch has indeed manipulated events so that others would invert, like Aradia (see here for an explanation) and Rose - I still get the feeling that the Rose slime has more merit as the reason, especially since Doc operates so passively with his understanding of Light. Hell, for all we know, it's both! Perhaps the two Understanding classes of Light, active and passive, were combined for extra effect?)
(We're also not sure what the retroactive implications of his identity will be. There are a couple of wild possibilities - like the idea that Hal is genuinely into Roxy, and decided to do something small as the Alternia's iteration of Doc Scratch that will lead to her being helped or saved in a sticky situation - but we can't quite say until we see this through further.)
(EDIT 3/20/2013: Actually, during the time he hasn't removed all his emotions (or he might just remove the negative ones), Arquiusprite has the combined, foreshadowed potential of pursuing some very disturbing romance with a Maid…)
Regardless of how it pans out, whether he's split out of the sprite by some arcane means or some sort of digital transfer or odd duplication occurs to get him to Caliborn…
Doc Scratch is Arquiusprite!