— ENDGAME - Knight to D6 —
(Image Source: marrionettekind - Info Sources: (1) (2) (3) (4) (5) (6) (7) (8) (9) - Rebuttals: (1) )
Lord English is supposedly indestructible. He's rumored to be killable only through a number of glitches and exploits in spacetime.
The following theory is tentative. I'm not at all sure things will play out this way. (The evidence I've seen since has made me 98% convinced, sure enough that I've bet hard cash on it; see the bottom under the cut.) It describes Dave Strider's potential role in rescuing reality, how Dave might die in the process, and the birth of Paradox Space itself.
"They wait for he who would drop it like it's hot whilst the pimp's in the crib."
While the image is amazing, it's also somewhat misleading. Read under the cut for the whole story!
(EDIT 1: Added brief notes on Davesprite, Roxy Lalonde, and Buzz Buzz from Earthbound.)
(EDIT 2: Added a rebuttals section at the top with erintoknow's excellent bit of devil's advocacy.)
(EDIT 3: Added a link to "Rage is not Evil!", part of why Calliope would win after a scratch.)
(EDIT 4: Added bragging rights for the timing!)
(EDIT 5: Added a link to the curtain color connection.)
(EDIT 6: Added notes on how this could close Dave's character arc positively, not negatively.)
(EDIT 7: And I forgot about the SWORD!)
(EDIT 8: Added the jigsaw frog blender incident.)
(EDIT 9: Added a link to The Green Sun's Destruction.)
(EDIT 10: Added a link to more Kanaya-healing-the-breach evidence.)
(EDIT 11: (2/9/2013) Added how Gamzee has three friggin' scratches on his face!!!)
(EDIT 12: (8/24/2014) Crossed out obsolete parts and added a link to the megalithic Cherub Post at the bottom. Don't click that until you're ready.)
So, first of all, I think it's important to investigate the hints and foreshadowing in Dave's character arc.
Specifically, how - above all - he is very set to die.
Homestuck is meant to be uplifting as a whole, and John, Dave, Rose, and Jade are its main four characters. The permanent death of one of the main four is almost unconscionable, and cannot occur lightly! If one of them is indeed to pass out of existence permanently, the event must be tremendous… but it also must be secret. As the most unthinkable, impactful, and meaningful death in Homestuck's narrative, it needs to be kept almost absolutely unforeseen for the entire comic. But at the same time, and for the same reasons, incredibly deep foreshadowing must be laid for the death from very early on. Deep and significant signs that the readers cannot recognize at the time for what they are, but - once the death is realized - become gradually understood retroactively, indicating that this death was the author's plan all along. That the writing was always on the wall, just in a language we couldn't understand.
And we finally received some of this, hidden in the most climactic flash of the comic, [S] Cascade.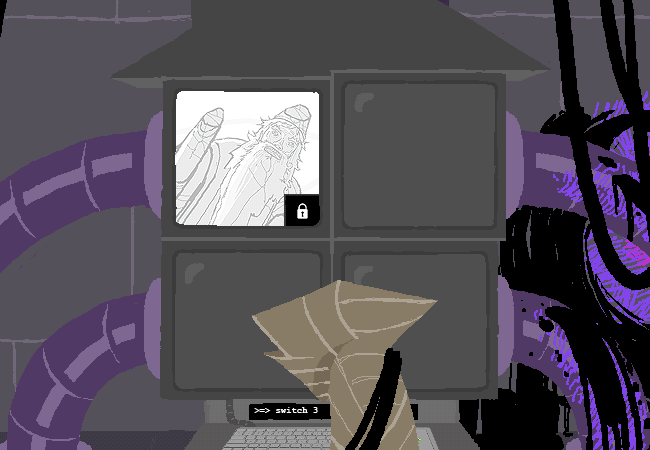 Jade and John's Prospitan ship crashed through Dave's quadrant of the monitor. And when the Fourth Wall was active in the flash, it cycled back through Homestuck's panels of Jade, Rose, and John's introductions… but not Dave's.
(EDIT 5: And now that we have four curtain colors associated with the four kids, the one that's been destroyed and burned merely adds to the ominousness.)
If Dave - the character closest to being a self-insert of Andrew - were to be the one of the four kids to die by the end, this is exactly the sort of foreshadowing he'd opt to use. Dramatic, heavyhanded, and completely inscrutable in meaning at the time.
If this is true, it puts plenty of smaller elements shown earlier in perspective: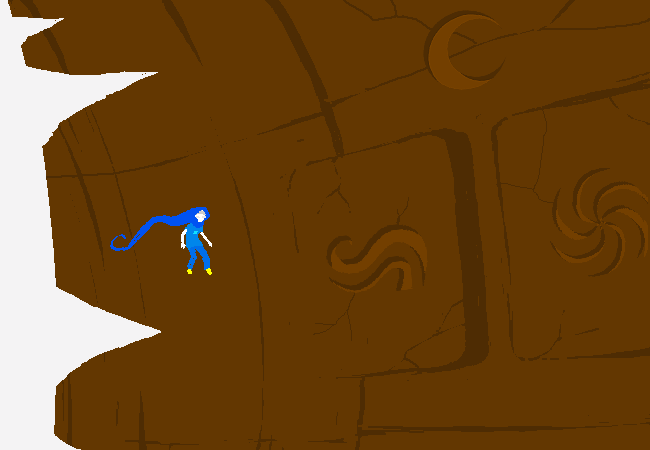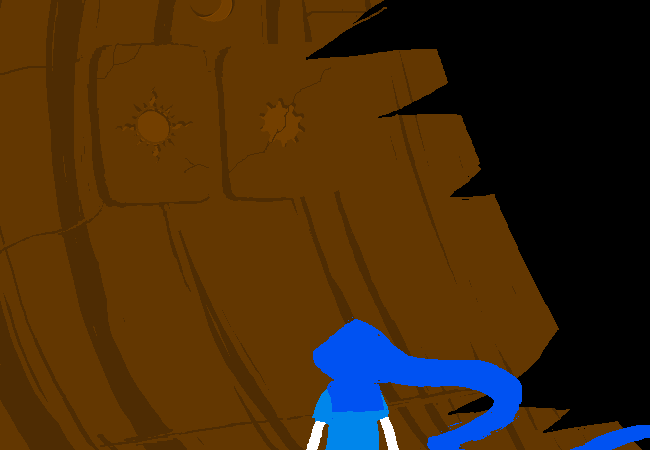 Dave's record symbol has been split since his duel with Bro, signifying the Scratch, but here, his Time symbol symbol is split. And not just by a stylistic break, but by cracked stone. This sort of thing usually doesn't bode well.
Furthermore, we've already had the Just death of a God-Tier player. At some point, we're bound to see a Heroic death. And this is where the shape of Dave's entire arc comes in.
DAVESPRITE: maybe if john was to try with his pure heart and shit it woulda popped out like a champagne cork and fuckin hero confetti woulda blasted him in the face
DAVESPRITE: but you
DAVESPRITE: we
DAVESPRITE: we had to break it

TG: im not john remember
GC: 1 4M NOT FOLLOW1NG
TG: im not a hero
TG: my bro was
TG: john is
TG: im not
Dave still doesn't believe that he's a hero. He's set to continue to be insecure about himself, especially when face to face with the ultra-determined Dirk, his young bro, a kid who was willing to cut off his own head and leap across time and dimensions in a single, quickly-executed plan to save all his friends at once (Synchronize/Unite), immediately after Dave's insecurities were reiterated by seeing him in person.
He still complains about fulfilling stupid hero tropes, still seems just as immature as he was before the meteor trip. Terezi is growing away from him, possibly without Dave's knowledge, as the likes of Karkat seem less self-centered and more willing to comfort her through her problems. In short, he still hasn't matured from the Dave that so callously and intentionally threw his alpha life away when he didn't have to; he's matured the least of the kids on this three year journey.
That's a very dangerous character arc to have in any story. Like a shotgun, safety off, aimed straight at a heroic sacrifice.
EDIT 6:
I'd like to note that Dave's current unhealthy state actually has a healthy resolution. The character arc he has is indeed very dangerous… in terms of his chances of living to the end. But that does not mean at all that he's destined not to grow.

The key here is something Kanaya said after the conversation she had with Porrim.

KANAYA: She Is Very Nice And As A Person Is As Impressive As I Was Imagining Her To Be
KANAYA: But Not Nearly As Intimidating Really
ROSE: I knew you wouldn't regret it if you got up the nerve to talk to her.
ROSE: What did she say, besides a few vampire-to-vampire skin-dimming pointers?
KANAYA: Many Things
KANAYA: Primarily Encouraging Me To Pursue My Prior Obligation To My People
ROSE: Oh?
KANAYA: She Said She Used To Eschew Her Role Rather Vehemently
KANAYA: The Duties Of Our Caste Were Quite Limiting In Both Worlds It Seems
KANAYA: So She Renounced Them Completely And Wanted A Different Life
KANAYA: But She Also Said Something To The Effect That
KANAYA: She Found That It Wasnt Really Necessary To Reject That Role Completely
KANAYA: And The Same Is True For Me
KANAYA: As Long As I Know Within That I Am Free
KANAYA: And If My Decision Is To Embrace My Path Then It Can Be A Source Of Strength
ROSE: Then you want to try to restore your race again?

There's the key to understanding how his arc may resolve.

Dave doesn't want to embrace his role as a hero, or as the Knight of Time.

TG: none of this is that big a deal
TG: i just mentioned the basics to her
TG: that id stop time traveling soon
TG: break out of the loops
TG: not have to wonder all the time if i was taking a wrong turn and dooming everybody
TG: i was never that cool with this
TT: With what, exactly?
TG: you know how you turned out to be this incredibly shitty seer of light and basically failed at that in every way imaginable
TT: Hey!
TG: well maybe i never wanted to be a knight of time
TG: maybe id rather just be like
TG: the dave of guy
TG: you know just some dude
TT: These really do not sound like the words of someone ready to face his own death.

And when he wished to go off on the suicide mission, it wasn't mostly because the cause was something he'd lay down his life to accomplish; he wasn't even sure what would happen if the Sun was destroyed. Instead, he considered himself worthless compared to his friends, and his role a torture and responsibility he didn't want to bear.

TG: so i flapped my wings and flew up away to it like a fucking piece of garbage
TG: and thats it
TT: This doesn't strike you as an impulse of self destruction?
TG: no
TG: not in the sense that it was a dark sacrificial zoology mission
TG: it was more like somewhere to go besides watching myself die a lot from the vantage of a feathery murder of dumb shitty birds
TT: So, if hypothetically you were to accept such a mission, or even insist upon one, it wouldn't be in the spirit of genuine sacrifice, but of escape?

In other words, Dave accepted his first suicide mission on unhealthy terms. He wanted to get away from the cycles of death, anxiety, and worthlessness and torch himself in a firey explosion. After all, after saving Rose from DD on the moon, he didn't choose to fly back and leave her side, even though it'd mean an unnecessary death. Drifting on the moon into oblivion, he wasn't being a hero in many ways.

But if that changes? Consider what Dave has to learn from finding that his own young ancestor, Dirk, is as flawed and insecure as himself, if not more. If Dave discovers his self-worth, resolves to be a hero, that he can be a hero, and voluntarily decides that the key act in saving reality and all of his friends is truly a wish that's worth his soul? He'll die a truer hero than he ever was.

Maybe even with a smile on his face and a thumbs up.

EDIT 7: And I forgot about the SWORD!

Back when he was trying to go on the meteor suicide mission, he received the completed Deringer that Davesprite healed…

TG: then out of nowhere this sword appears in the thing
TG: so im thinking obviously i have to break the sword somehow
TG: because thats all i fucking do is break swords
TG: but as im thinking of how to do it i put my hand on it
TG: and it just snaps off with this comical shattering noise
TG: like i just fucked up some priceless shit in the louvre

…and the sword broke at the faintest touch.

Because this Dave hasn't made The Choice yet.

As I was saying above, Dave wasn't acting like a hero when he first chose to sacrifice himself. Only when he chooses to be a hero will he wield the full, unbroken sword!
And the foreshadowing has been getting more and more heavyhanded since Cascade. From young Caliborn:
uu: "KNIGHT TO D6."
uu: THE KNIGHT IS DEAD.
uu: YOuR WORDS ARE BORING.
And Lil Hal, the young Doc Scratch:
TT: Tick, tock, Jake. Time is dead kids.
TT: How 'bout that smooch?
In fact, now that Cascade's taught us how to recognize it, we've even been able to find similar evidence earlier and earlier in the comic. Like which worm head PM sliced off her station…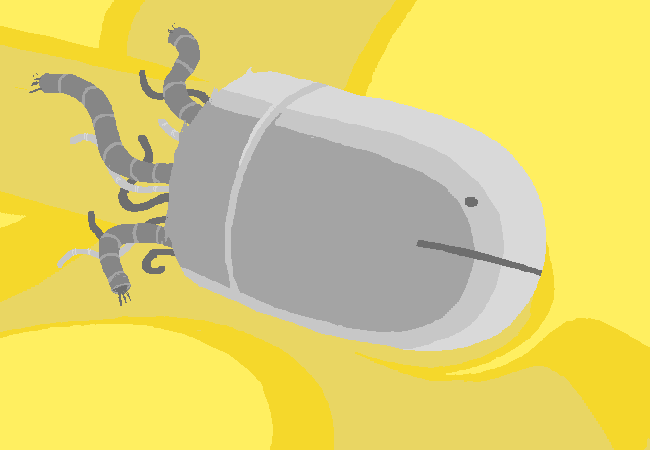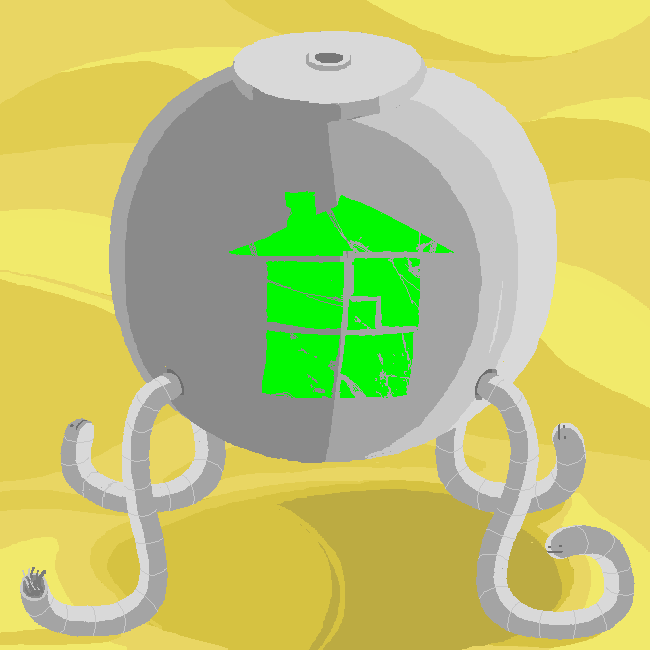 Moreover, Dave's death is being tied heavily to Lord English.
Heck, there were even hints about them fighting back in Act 2, when Dave portentously blended a frog!
You guess BRO stuck some FAKE BLOOD CAPSULES in that puppet? Pretty gross.
You spot one of your BRO'S many WEBCAMS nearby, recording the incident.

It seems you may have just been an unwitting accessory to some sort of grisly puppet snuff film. You're not totally sure how you feel about that.
Now ain't that meaningful in retrospect.
uu: DAMN IT.
uu: ALWAYS WITH THE BLACKOuT SHIT.
uu: BE SuCH A RuDE CRACKDOWN. ON MY MONEY AS FuCK.
uu: KID SNuFF CHANNEL.
The Cairo Overcoat was covering the fourth wall in [S] Cascade, displaying the progress of the comic backwards through time that excluded Dave. Andrew even highlights this connection as meaningful in his EoA5 explanations:
As she expanded it, and we crept ever closer to the completion of the scratch, we saw individual panels from early in the story flashing backwards. From a visualization standpoint, this is just reminding us that the scratch is in fact undoing everything we just read, all the way back to page one, and starting over fresh in a different instantiation of the universe. But if you want to understand why all that was literally being broadcast through the wall at that moment, you could consider what happened to be on the other side of the wall: Lord English's coat. Why would the interior of the coat broadcast those flashbacks? No need to get into it too much. Suffice to say, it belongs to someone purported to be a master of time.
The banners in [S] Seer: Descend detail prophecies for the four kids: prophecies we would later learn in Myststuck had to do with the post-Scratch kids.
"They wait for he who would extinguish candles whilst fanning a fire."

"They wait for she who would thaw solid flesh and resolve it into a dew."

"They wait for she who would breed lilacs out of the dead land."

"They wait for he who would drop it like it's hot whilst the pimp's in the crib."
Myststuck revealed that the repeated words "They wait" refer to the Nobles, the four kids of the post-Scratch session. And more specifically, the third quote likely ties into Jane's land: the flora peeking out from the cracks in the Land of Crypts and Helium is said to have plenty of nourishment, water, and seeds from the hovering seedpods ascending and descending across the planet. However, this apparently is insufficient for them to grow.
We can conclude that this means they need one thing her land sorely lacks: Light. Enter the third banner: Rose is meant to breed lilacs out of Jane Crocker's dead land. In fact, she might Play the Rain while she's at it.
So therefore, Dave is going to drop it like it's hot while the "pimp's in the crib". He's also been described by a God-Tier rung as the "Pimpslayer". And Lord English is the pimp.
But, while the "pimp's in the crib"? In the slang sense, all that means is that he's 'here'! The dude is ALWAYS already here. Unless it means something more literal:
While Lord English is in the crib. While he's still a child, is still young Caliborn in his own session.
Not that Dave would necessarily win in a fight against a young Lord of Time.

In Earthbound, one of the inspirations for Homestuck, the heroes have no choice but to sacrifice their lives and cast themselves years back in time, in order to fight the ultimate enemy Giygas - who looks uncannily and intentionally like the zoom-out from the Sun-spiral at the end of [S] Caliborn: Enter - when he is still at his weakest. (Just like how in recent pages, Calliope is serving a role similar to Buzz Buzz!) It's no coincidence that the glitch, the exploit in space-time to defeat Lord English, would involve doing similar… invading his session.
And might I add, the explicit role of a Knight is to 'Exploit' his aspect:
ARADIA: the knight of time is not necessarily the tactician
ARADIA: he is a powerful warrior class which exploits the flow of time as a weapon

CG: ANYWAY, SHE AND DAVE DO A LOT OF FROG BREEDING, ACCELERATING THE PROCESS SIGNIFICANTLY BY EXPLOITING TIME TRAVEL, WITH HELP FROM ME AND KANAYA, SINCE WE WERE IN CHARGE OF FROG DUTIES IN OUR SESSION.

CG: SHE AND DAVE RAN INTO JACK, WHICH I'M SURE HE MUST HAVE SAW COMING BECAUSE I'VE NEVER SEEN ANYONE EXPLOIT TIME TRAVEL SO SHAMELESSLY AS HIM, NOT EVEN ARADIA.
The evidence of Dave's invasion may already be hidden in what we've seen. One element in particular…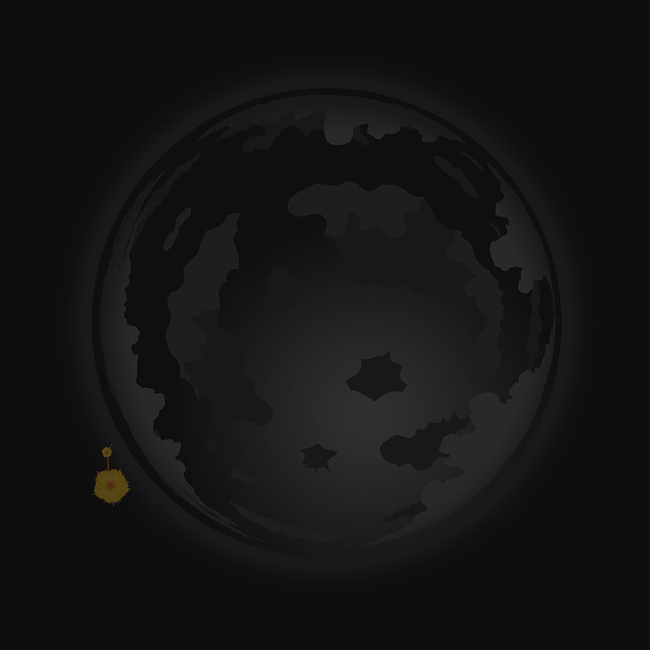 Was Skaia darkening because of the upcoming "Dead Session"? Why would it only begin to darken as they near their entry, before Calliope is even killed?
Well, what can turn out the lights, monitors, and plunge things into darkness? What's associated with storms, rain, and dark storm-clouds? And what shields communication and information from others?
The answer is VOID. Perhaps when the kids devise this plan, a God-Tier Roxy Lalonde will retroactively black out Caliborn's Skaia, ensuring that once in-game he'll have no chance of receiving information about his session's future plight. (The retroactivity is no problem, after all, as there is no temporal frame of reference between sessions.) Whether she was involved isn't necessarily important, of course; all Dead Sessions may be like this.
(The above has been debunked by Aranea's cherub backstory, which explained how Skaia darkening is a normal Dead Session feature.)
So, that possibility aside: Dave breaks his way into Caliborn's session and does… what?
Caliborn eventually leaves his session to become Lord English. This is inevitable; he cannot and will not be stopped. What can Dave do in that session to thwart Caliborn's plans at all, or eventually unlock his defeat?
He can bring Calliope back.
But how?! Caliborn's sister is dead; there seems little way to resurrect her in his body for long, much less in that of the adult Lord English.
The answer is plastered on Dave's shirt. It's what you do when a game glitches up, when disaster has unfolded before your eyes to no recourse. It's the ultimate temporal exploit: a hard reset.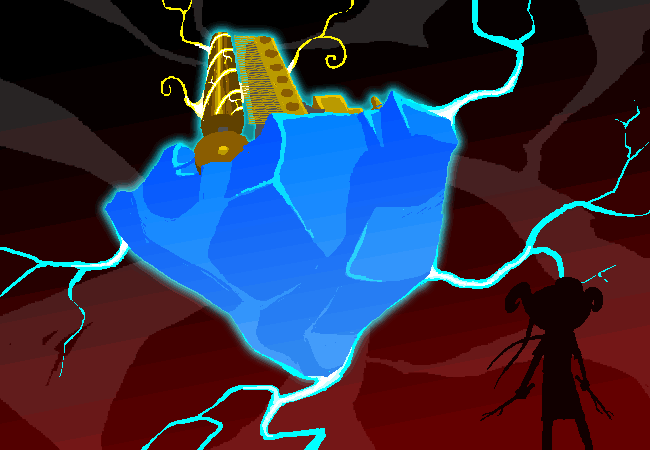 It will always be an edifice of similarly cryptic design, located on the planet that is home to the Hero of Time.
Its environment dictates the nature of its construction. Its power is dangerous, and is meant to be utilized only in emergencies such as yours.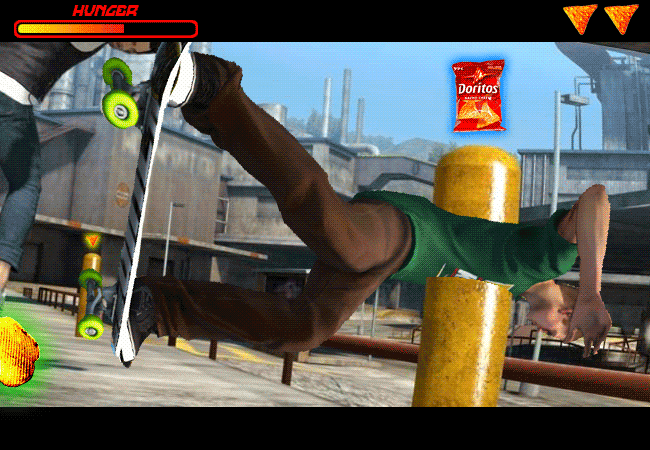 You start thrashing up stunts something uncannybrutal on your quest forOH GOD DAMMIT.

You were making a play for that sicknasty pack of deliriously mouthwatering Doritos and this idiot got stuck in a pole again. Time to reset for the third time this hour.
Dave would need to forcibly SCRATCH Caliborn's session!
(NOTE: Believe it or not, I actually posted this entire theory, above and below included, a couple days before this pesterlog showed up! Calliope reasonably thinks the other version of her would be 'doomed', but we now know otherwise. >;] )
After all, did you ever wonder why
the most important character in Homestuck
intentionally gouged
THREE SCRATCHES onto his face??? :oD
It's why Caliborn calls his servant "Doc Scratch", using a glitch in scratch mechanics themselves to infect universes like a retributive gesture of spite. In billiards terms, Lord English has been pocketing session after session, universe after universe without leaving his opponents with a turn, our kids' eight-player session meant to be the eight-ball he needs to pocket last. The only way to defeat him even as he pockets it is for our protagonists to have a turn with the cueball, like how it was used to make a sword that could quite possibly scratch a scratch construct… If Caliborn is made to scratch, even at the same time the eight-ball is pocketed, billiards dictates that our protagonists finally get to make a move!
The thematics being built up for Dave seem to necessitate his death in the process, whether it's while he's fighting Caliborn to distract him, obliteration by the Scratch itself, or something else. Otherwise, the graveness of the foreshadowing in Cascade wouldn't have been warranted. Davesprite can't rob him of the import of it all, he doesn't have the story weight to carry that kind of foreshadowing. (It looks like God-Tier Dave is the Pimpslayer, not him.) The question is whether Dave has time to suffer a Heroic death in the process and become a ghost, else he'll be caught in the Scratch and endure complete obliteration. Of the kids, Dave Strider is the only one to become excluded from the plot, to permanently cease to live.
(There is exactly ONE thing that has the potential to save Dave Strider, that has even the slightest possibility of it. JUST ONE. It probably isn't very likely, and I have no idea if she'll even have the opportunity. But regardless, the ONLY thing with the raw thematic strength to save Dave from this foreshadowing is if Roxy Lalonde robs the foreshadowing out from underneath him, sacrificing herself in his place at the last moment: "A mother will do whatever is best for her children." I couldn't tell you the chances of this happening, but I'd guess that it's "small but possible".)
And what would the result of carving a spiral into Caliborn's Scratch device be? Well, the Scratch has a very specific function! After Caliborn entered and began talking to Andrew over the radio tower, I was very surprised to hear his situation termed a "one-player session". Not simply two, with one who died, like Aradia's entry into the trolls' twelve-player session… a one-player session, explicitly.
That's why a Scratch can work.
But in addition to losing their memories of everything that had happened before the scratch, there was another catch for the failed heroes. In the new reality, they would not serve as the heroes. They would mature to become the ancestors of the twelve they formerly regarded as theirs, and this twelve would be chosen for glory.
In session one, Caliborn plays, escaping before the Scratch is complete.
In the reset reality, Calliope plays.
This is the way the Scratch works, and the payoff of Dave's deadly sacrifice. It doesn't matter how she'll win, how she happens to restrain or defeat her brother in the reset session; the very definition of a Scratch assures her circumstantial success in entering!
TA: iin order for the vii2iion2 two be riight, that ha2 two happen, and the uniiver2e wiill make 2ure iit wiill.
TA: iit2 kiind of liike how a prophet earn2 hii2 2triipe2, by beiing bliind, liike how an angel earn2 iit2 wiing2.
GC: WH4TS 4N 4NG3L
TA: 2ome terriible mythiical demon.
TA: wiith the2e awful feathery wiing2.
GC: Y1K3S
TA: paradox 2pace u2e2 them two u2her iin the end.
GC: HOW DO3S 1T KNOW WH4T 4NG3L TO US3… ……..
TA: huh??
GC: >:?
So, how would a reset Calliope help the kids?
As a passive Space player, she would help them advance…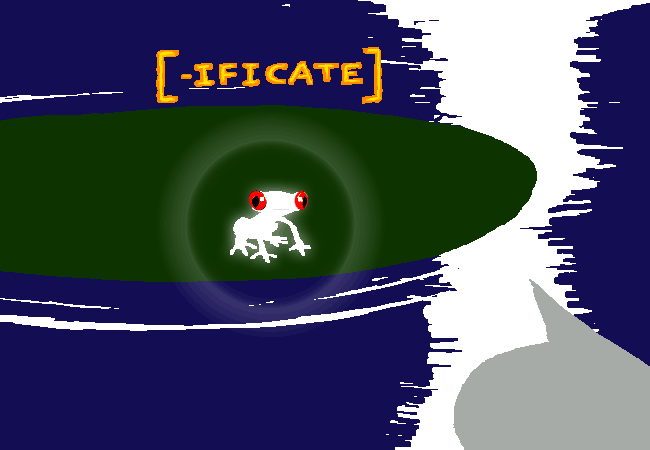 But what else? Surely she wouldn't reach the level of destructive power that Lord English has attained.
What if something else is meant to result from her success? From Dave's mission, and his sacrifice?
TG: and then i started to notice something coming from the sky
TG: it was this faint eerie singing and i look up and theres nothing there just darkness
TT: That's interesting.
TT: I've read about this.
TG: what did you read
TT: Certain texts say singing from the unknowable void carries a message.
TT: That its recipient has been selected for a mission of supreme cosmic importance, that will result in your death and that of billions more.
TT: But one that is essential to the perpetuation of existence itself.

TG: i looked up into the sky
TG: didnt see anyone singing
TG: but even though the sky was black i could see the sun
TG: it was bright as hell even through my shades
TG: so i flapped my wings and flew up away to it like a fucking piece of garbage

The kernelsprite collapses into a black hole, sucking the planet into it, and eventually the sun and entire solar system.
Perhaps existence's perpetuation didn't depend on the Green Sun's existence, especially when we can now guess that it may have been created to eventually be destroyed, punching open the breach and breaking the 8-ball on Paradox Space. Perhaps reality's perpetuation instead depends on Calliope playing.
It's also logical, since there is essentially nothing new in paradox space. Everything that can happen is either a visual or substantive reproduction of something which has already transpired on a timeline, offshoot or otherwise.
I have a different theory that Gamzee is the one to lock in the ectobiology coordinates for the cherubs, but the details aren't necessarily important. The one key portion of it is this assertion: That Gamzee is "the most important character in Homestuck".
And the only way he could attain that title is not only from creating Caliborn, who becomes Lord English, a great Destroyer and the embodiment of Death… but by the fact that at the same time, he created Calliope, a great Creator and the embodiment of Birth!
I don't know if Calliope can play her session in a way that keeps Caliborn alive and under control, resulting in her eventual maturity as a merged cherub and possibly assuming a winged form. She might have to kill him in turn and remain 'forever stunted'. Leaving them as Yin and Yang, two distinct and incomplete halves of the same whole. I can't be sure.
Calliope and Caliborn mirror GPI and DMK from Problem Sleuth: Godhead Pickle Inspector and Demonhead Mobster Kingpin. One Descends, and tears reality apart. The other Ascends, to do little but Fondly Regard Creation! (If you think about it, "Muse of Space" is almost a word for word translation of "Fondly regard Creation".)
And Pickle Inspector manages to do something else, too, in Problem Sleuth… he manages to divide himself infinitely across time and space, forming every particle in existence!
By shattering reality and the Void, Lord English embodies the death of Paradox Space. Why can't an ascended, winged Calliope sacrifice herself to embody creation?!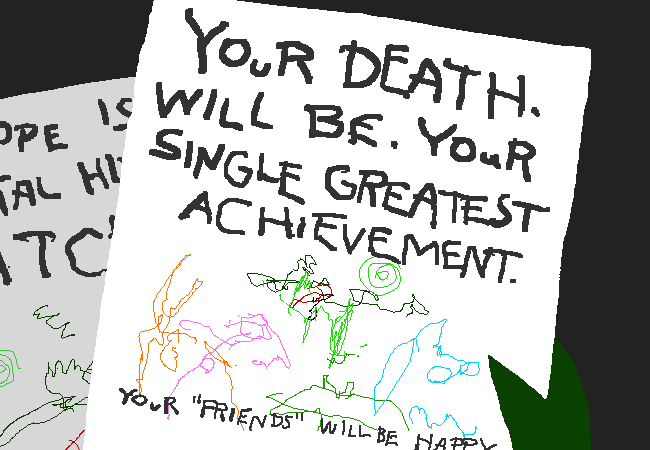 Regular sessions with regular players are meant to create universes. A session with master classes, with purview over all of Paradox Space is set to do something more.
And if a frog can embody an entire universe…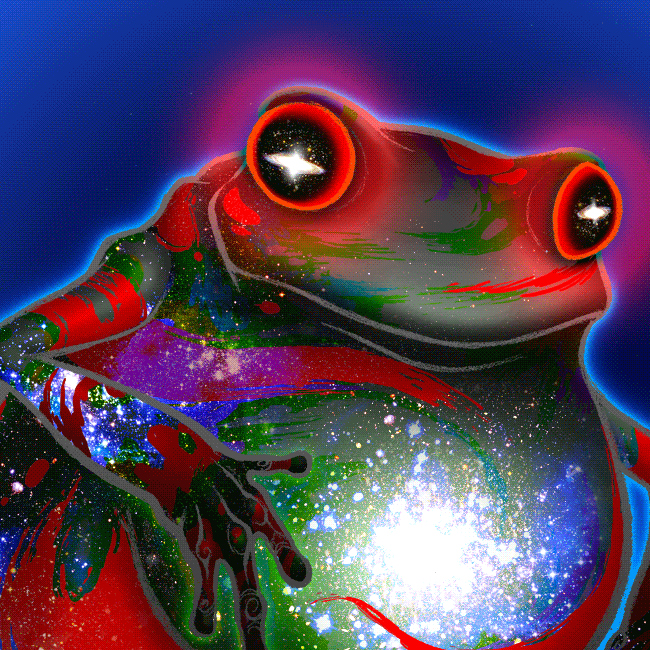 Then why can't Calliope bodily transform herself to become Paradox Space?!
Perhaps by shattering reality, Lord English is merely continuing the destruction of his sister!
UU: it is the day whereafter the legendary octet of mUtUal progenitoriety will come together and heal a great breach in paradox space.
UU: a day delivered throUgh eighty billion years and foUr distinct Universal instances worth of Unfathomable tUrbUlence.
UU: and while the emerald eye of this storm is fixed in the abyss forever
UU: today yoU are poised to escape its scowl once and for all.
UU: by skaias gUiding light, yoU may leave behind its tUrning arms of bright coloUrs and mayhem, and secUre peace for yoUr cosmic progeny for all dUration.
Lord English and the Green Sun have a purview throughout Paradox Space. Nothing new ever happens in Paradox Space. So… will Calliope simply retroactively result in existence? Or perhaps, if this reality is compromised, she can instead - or in addition! - make another one.
And perhaps Lord English is bored of this reality, and wishes to extend his reach to that one, tearing open a breach in existence blow by blow to get to it.
CG: I COULD HATE A HOLE IN PARADOX SPACE ITSELF, STRAIGHT THROUGH TO A NEW REALITY FRESH FOR THE HATING.
After Lord English is beaten back by the other kids and trolls, trapped to wreak havoc only within Paradox Space itself, and Kanaya has sewn up reality (and she's patched up a hole in 'Space' before!)… (Though she might have to stay behind to do so?! D: ) …all the players and their ghosts can escape through the gap to a new reality. A new instance of Paradox Space, free of the Green Sun, free of Lord English, and securing peace for the kids' and trolls' cosmic progeny for all duration.
Checkmate.
—
Since this theory was first published, plenty more evidence has been witnessed — enough for me to bet USD $100 on this theory against mrcheeze — but the leadup to the Gigapause also gave us a few caveats and technicalities that require further explanation. The cherub backstory Aranea told us was particularly loaded with details that raised questions, like how Caliborn's session had no Skaia for a scratch construct like the Beat Mesa to fall into, nor meteor portals to rearrange. All of these things have potential explanations, though, some of which explain even more about the structure of the Third Scratch event.
I've gone into these details in my Cherub Post, a massively long affair where I go through Aranea's cherub story page by page, pointing out all the evidence, parallels, and side-theories I can think of. The post contains heavy references to virtually all of my other major theories, so I recommend plumbing through most of the big names on my sidebar-linked Major Theory List before diving into it. If you're ready, though, just click below! Warning, the Cherub Post is large enough to crash Tumblr's mobile app.