Jane Crocker is very dangerous!

A friend pointed something out to me just now:

Steve: WAIT I JUST… REALIZED
all the symbolism with horuss and rufioh and dirk and jake, right
like all the stuff that is the same
and then
rufioh wants to break up with horuss
this is incredibly clear foreshadowing to dirkjake not being endgame
blastyoboots: yeah i gue-
blastyoboots: …..
blastyoboots: oh shit

You can probably connect the dots from there. Not regarding Dirk and Jake, whose relationship was doomed due to a wholly different relationship's inevitability, but more importantly regarding the girl in the equation.

Of course, for those not following, let's have a little recap?

Tiara! Subtle.

Meek as can be, Damara Jane shared romantic leanings with Rufioh Jake. However…

Rufioh Jake ran off with Horuss Dirk. A relationship where Rufioh Jake was taught to fight, taught to fly, to enjoy a measure of confidence in himself… but one that wasn't a perfect match, which Rufioh Jake (may or may not have) wanted to end at some point, but would find himself without the courage to do so, as it was difficult to stand against the imperturbable Horuss Dirk.

GT: Well im more than a little sure he likes me in that way if you catch my drift.
GT: And what with how he is…
GT: Just so relentless and aggressive about everything you know?
GG: Yeaaah.
GT: So i just start to wonder deep down if maybe its inevitable.
GG: What's inevitable?
GT: Him and me. As more than just best buddies.
GG: Uhhhhh…
GT: I know if he has his heart set on something he will never let up.
GT: So maybe its just going to happen and things will be easier that way and i should just try to come to terms with it?

Damara Jane was obviously distraught about losing her one true love to another, but that alone wasn't enough to transform her personality. What pushed her off of a cliff…

Was Meenah's intervention and antagonization! (In Jane's case, this would likely apply to the Condesce, or possibly also to the Auto Responder.)

I always wondered why Andrew made the particular romantic subplot between those pre-Scratch trolls so unnecessarily complicated. Why was so much detail warranted, I wondered? Now we know: He was carefully phrasing their situation to mirror how Jane's will unfold!

So, just how disastrous was Damara's turn? It shouldn't be understated:

For multiple separate ghosts of an individual to show up in the afterlife, they must be killed within doomed timelines. And in the ministrife, as well as from Damara's word, we can see that there are thousands of duplicates… so much so, because Damara kept killing her friends and dooming the timeline whenever they got closer to success!

In the link at the top, I showed you how dangerous an inverted Jane Crocker could be; now, you have another enormous canon hint to how dangerous she will be.

And just one more closing note:

SHIT SHIT FUCK SHIT FUCK

It turns out I missed a monumental implication of this connection.

Read this part of Aranea's explanation of it all:

Unfortunately, you unleashed something even you weren't prepared for, and you had to deal with her yourself. After a long 8loody duel, she killed you. And you would have stayed dead if not for me!

Now, I didn't bring this part of it up earlier. I knew there were plenty of hints to their rivalry, to at least some sort of fight between the Condesce and Jane…

pipefan413: The baroness would raise her very strictly, mentoring her in the art of baking. The girl took to the lessons with fierce determination. Her only act of defiance left was to one day surpass the baroness in skill, and beat her at her own game. […]

…But the batterwitch was determined to make sure this destiny would never be realized. In her limitless cruelty she would do all in her power to keep [Jane and Jake] apart for the rest of their lives.
pipefan413: The girl that day swore she would bring down the baroness and her evil empire. She would use the many secrets she'd learned over the years against her, and began carefully plotting her downfall.
pipefan413: Years went by. The girl was nearly ready to put her plan into action. But then, just like that, the baroness disappeared. She was never seen or heard from again.

…but I figured she'd have allies in the fight, and didn't see any possible plot relevance to the unlikely possibility of Jane Crocker defeating the Condesce singlehandedly. Why would Andrew possibly write the plot that way? It didn't make any sense, and even if it did, there was no reason it was more likely than any other unfolding of events.

But that's because I forgot about the CURSE!!!

His curse is one of conditional mortality, with the desired outcome contingent on her service.

The Handmaid will enlist the Condesce, extending the same bargain once offered to her. It will be the sort involving neither negotiation nor possibility of refusal, expressed in terms plainly understood by the psychotic genocidal.

The two last trolls alive, blood of rust and royalty, will make each other pay for the crimes against their race. Their payment will be mutually dealt in the currency of punishment and reward at once. The Condesce will be rewarded with the power and immortality her new service entails, and punished by the grueling slavery for which it is synonymous. And you, young lady, are to be punished by death at the hands of your replacement. And so too will this be your reward.

I had forgotten completely about Lord English's powerful immortality curse, which is transferred to her MURDERER when a cursed servant is finally killed!

TT: Her boss supposedly had jacked her power level through the roof. I even heard, and don't quote me on this, that she may have been over 9000.

If Jane ends up with that..?!????!!! !!! ! D:
I've seen some complaints that this theory doesn't show where Roxy fits into all of this. Well, I had seen foreshadowing for one way she could get involved:
TG: but joking oh no i think not
TG: u dont think that if i didnt say he was off limits on account of you being my best friend
TG: i wouldnt be all the hell over that????
TG: daaaaamn
TG: that rugged senseof adventure
TG: the delightful silly vernacular thats like
TG: weirdly and bewitchingly not self aware
TG: those adorbable teeth
TG: swoooooooooon
GG: Nooooo, stop. :(
…but I didn't include it in the main theory because it wasn't absolutely solid. Roxy seemed committed to respecting Jane's feelings for Jake, and I expected her to see those feelings simmering clearly underneath Jane's rage; I didn't want to accuse her of being desperate and amorous enough to make a move on Jake. Not without a little more evidence.
And speak of the devilfucking dickens:
ROXY: wait rly
ROXY: as in like you dont give a shit if he dates anybody or
JANE: MMMMMMMHM!!!
ROXY: i seeee
ROXY: iiiiiinteresting!
FEFETASPRITE: 3833 JANE: WAIT…
JANE: WHAT??
JANE: WHAT THE HELL IS THAT SUPPOSED TO MEAN???
ROXY: nothing!
ROXY: i was just…
ROXY: it was a joke!
JANE: WAS IT REALLY?!
ROXY: ok maybe not a total joke
ROXY: but still mostly a joke!
ROXY: im only
ROXY: trying to
ROXY: blurgh
ROXY: i dont know
It looks like we have our 'cheater', in a sense. :)
I never meant to say that the drama between the alpha trolls would play out EXACTLY with these kids. What I was arguing was that Andrew intended things with Jane to unfold this way, and so gave us an extremely similar guideline of a hint, a "Here's how to make the girl go crazy", if you will. Even if the small details are different, the general structure is undeniably the same. Dirk and Jake serve as the long strain on Jane mirrored by Horuss and Rufioh's prolonged relationship in front of Damara, but Roxy Lalonde will be the one she catches in the act!
Now, Roxy isn't quite ready to throw caution and concern to the wind and swoop in on English. But if her inhibitions were loosened even slightly:
JANE: DO YOU EVEN REALIZE WHAT YOU'RE SAYING HALF THE TIME?
JANE: I THINK I LIKED YOU BETTER WHEN YOU WERE DRINKING!
ROXY: jaaane no
ROXY: dont say that
ROXY: i had a problem :(
…a slip could be all she needs to start her stealing after the void in Jake's flushed quadrant.
Perhaps she grew complacent with the threat successors posed, after such a long history of killing them with ease. Heiresses upon reaching maturity were expected to challenge the Condesce for the throne. It was not merely expected of them by their people, but demanded by their shared lusus.
The Condesce (and possibly AR as well) is still going to be the one to push her Heiress over the edge, eventually resulting in the traditional murderous succession and the inheritance (curse) that comes with it. And her trump card in the matter could easily be showing Jane that Roxy is attempting to mack on Jake (and at least apparently succeeding)!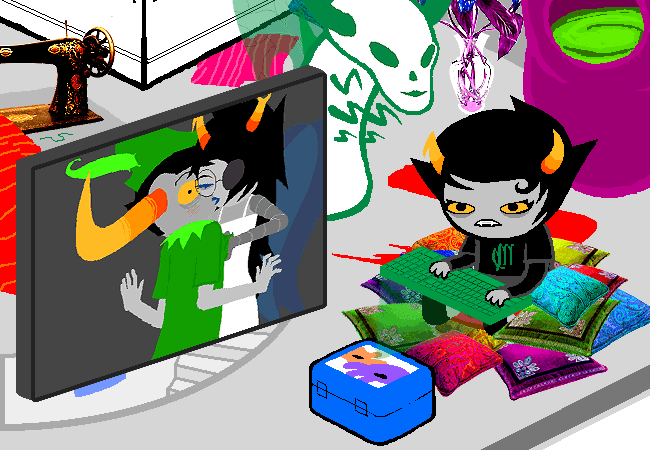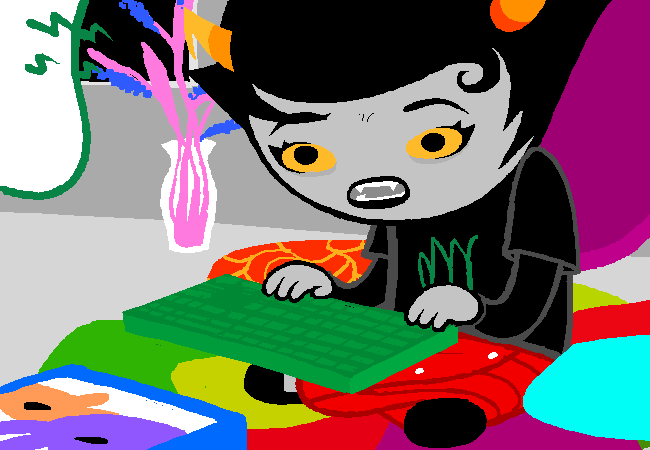 Pictured above:  A Page is kissed by a Thief (steal-active) while a Sylph (create-passive) watches in horror.  Soon to be:  A Page is kissed by a Rogue (steal-passive) while a Maid (create-active) watches!
Ostracized by Dirk, self-alienated from Jake, and betrayed by Roxy, Jane would feel incredibly worthless and alone…
…and would be well and primed to LOSE HER SHIT.
Seems like John will have to face Betty Crocker after all.
EDIT: And that the final enemies will be Crocker and English… Jane and Jake!