Breath, Blood, and the Flow of Reality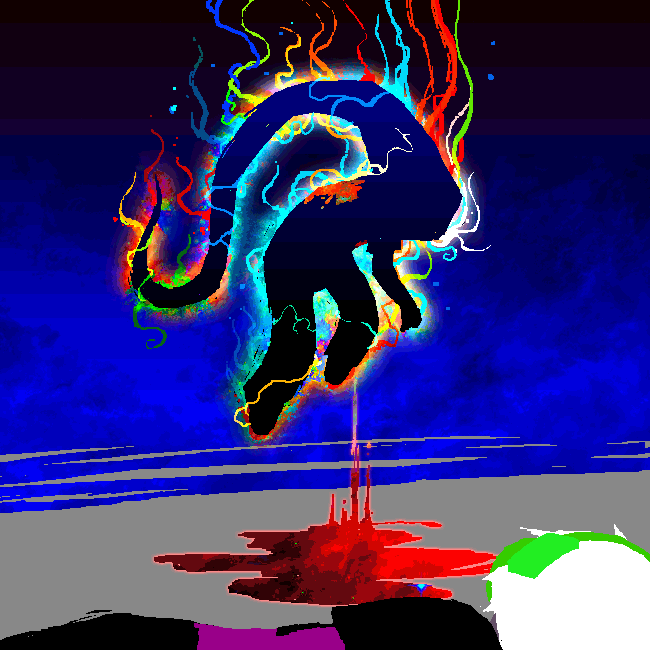 Breath is the aspect of freedom, quest, direction, delivery, frivolity and detachment. Blood is the other side of its coin, its complement, governing bonds, promises, responsibility, combined will and worldly ties. Where Breath is flight, Blood is shackles.
As the dichotomy concerning the way paths unite or twist away through reality, both of these aspects are incredibly powerful, and important for ultimate victory over Lord English. Below the cut, we'll go into the evidence and potential for both aspects, and the actual or theoretical heroes thereof.
Starting with a look at John Egbert, the Heir of Breath… the most effective character so far at leveraging his role over existence, even before he ascended!
First, it's important to understand:
AG: There's more to the realization of our roles than gaining flashy powers.
The role of a Hero is his or her ability to have a certain effect on the unfolding of reality. Reality is decided by people, by circumstance, by actions and choices, much more so than by a boy's ability to send a magic gust of wind up someone's skirt. In fact, the "flashy powers" are sometimes arguably the least important part of one's role.
So, what effect has John had on others, in his capacity as an Heir of Breath?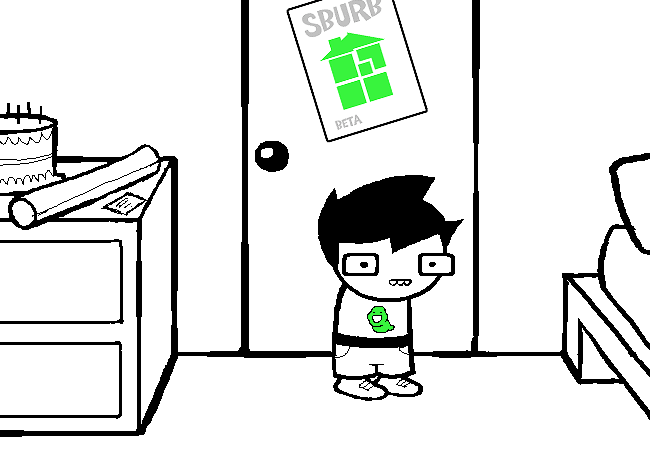 As the passive Change class, John's role is likely to invite change in Breath, and to invite change through Breath. In effect, he becomes a nexus through which Breath changes, both around him and in others; sometimes by his will, sometimes "as if by the will of the aspect".
And what has John changed in others?
i think you just gotta get out of your bro's shadow and spread your wings dude!!!

so i got you these. they're totally authentic! […] they MIGHT even be more ironic than you and your bro's dumb pointy anime shades.
He gave Dave a pair of sunglasses that redefined his appearance, and an avenue of inspiration to escape his Bro's oppressive shadow.
To Rose:
but yeah, i got you this because i think you're really creative and you could make something nice with it if you put your mind to it. and it might help you take your mind off a lot of all this serious business you're always absorbed in. you know, all this weirdo pseudo-gothy stuff or whatever. frankly it's kind of depressing.
He gifted a pair of knitting needles that gave her a hobby, inspired great lengths of reciprocation in her own gift to him, and later defined the very way she fought and addressed the world.
And to Jade:
i went to a weird asian store the other day and saw this rad shirt, so i got it and i'm wearing it now! but there was a blue one too which was way more awesome, and i wanted you to have it. i know you like green a lot, but maybe you'd like to try wearing blue sometimes? i bet you'd look like a million bucks! also i know you've been frustrated lately about how your pumpkins keep disappearing. well, i can't begin to explain why that's happening! all i can do is give you these so you can plant some more. don't give up, jade! wherever those dumb old pumpkins went off to, i'm sure you know the fun is in growing them and taking care of them until they're ready!
He suggested trying a different color, and persevering in her quest to grow pumpkins when she was on the verge of surrender… when in actuality, the entire gift arrived in the past, setting Jade on the path not just to grow pumpkins, but to find and connect her friends in the first place!
Huge, nearly character-defining changes in each of his friends, each with a single gift. Three for three.
"You're upset that you're stuck under your Bro's shadow! Why not try some different shades, and find your own path?"
"You keep stewing about in serious issues! Why not have some fun, mix up your hobbies, create instead of stagnate?"
As if to say, "Why not try a change in direction?"
Breath is quest, goals, freedom, direction, frivolity, and detachment from the everyday ties and rigors of the world around oneself. John is the nexus via which Breath changes!
You can see it in the way he tempts conversations to twist and meander, lays breadcrumbs for others to take this way and that, as if he's twirling yarn in front of a cat:
GT: so you're a time traveler?
GA: No
GA: We Dont Actually Travel Through
GA: Uh
GA: Well
GA: Not All Of Us Do
GA: One Of Us Does Though
GA: Thats Not What We Are Talking About Here And Is Aside From The Point
GT: so let me see if i have this straight…
GT: you are a time traveling space alien from the future, sent here to study humans?
GA: No
GT: are you from mars? is it a mission of peace?
GA: No John You Werent Listening
GT: what does your time machine look like? a phone booth? phone booths are a popular thing for some reason.
GA: Damn It
GT: were you lured to earth by a huge gyroscopey thing that jodie foster piloted in contact, while matthew mcconaughey sort of acted as her spiritual guide i guess…
GA: What The Hell
GT: and then he kind of preached to her about having faith instead of believing in the sciences so hard all the time, and i guess in the end she believed him, maybe?
GT: actually, im not even sure what the point of mcconaughey was in that movie. but he was still awesome.
GT: and then jodie found her dad on an alien planet… but i think he was a ghost or something? or maybe an alien in disguise.
GT: and then she went home and nobody believed her, but you just KNOW mcconaughey believed her.
GT: because he had all the faith. and i mean ALL OF IT.
GT: anyway, does that have any applicability to your cosmic interstellar astrojourney?
GA: Okay Youre Even Dumber Than The Rose Human Thats Incredible Really
GT: pff, i know i'm dumber than rose, that is not much of a burn, dude!
How he misdirects people this way and that, distracting them from the point for laughs:
TAVROS: iT'S FOR PRIVATE SENTIMENTAL PURPOSES,
TAVROS: i DON'T WANT TO SAY,
JOHN: that's cool. guess i will just enjoy this ring forever, as my property.
TAVROS: oKAAAAAY,
TAVROS: i'LL TELL YOU,
TAVROS: yOU'RE AN AWFUL HUMAN, bY THE WAY,
JOHN: yeah right, dude. would an awful guy be wearing such a sweet, priceless ring? i don't think so!
TAVROS: oH MY GOD, tHAT'S SUCH BAD LOGIC, tHAT YOU'RE KNOWINGLY USING TO BE A WORSE ENEMY,
JOHN: yeah…
JOHN: you sure did explain that, i guess.
And how he hardly has to make an effort to get others sending themselves on lengthy quests:
TT: and fred savage was like his child prankster sidekick.
GA: Is This An Adversary You Have Encountered On Your Quest
TT: no, it's a movie.
TT: you should ask john about it, because he thinks it's awesome, which it is.
GA: It Seems You Put Stock In Johns Assessment Of Things
GA: Even Really Uninteresting Things That Are Pretty Terrible To Listen To
GA: He Is Either The Leader Of Your Party Or You Hold Whatever The Human Equivalent Of Mating Fondness For Him Is
TT: yeah, i got him this really cool bunny for his birthday, and it's really nicely knitted and everything.
TT: because i am basically in love with him, you are right.
GA: Uh Okay
TT: heh, just kidding. i'm sure john knows it's cause i am really thoughtful and i bet he really appreciates the present, and would say thank you if he were here!
GA: Okay Human Courtship Is Definitely A Strange Thing And Its Sort Of Blowing My Mind Listening To This
GA: I Think Ill Talk To Someone Else Now
TT: why don't you talk to john?
GA: Maybe
GA: When Along His Timeline Would You Recommend Communicating With Him
TT: oh man, i don't know.
TT: why don't you pick the time that will make the most complicated mess out of everything imaginable?
TT: you know that's what you're gonna do anyway.

EB: did you know nicolas cage was almost going to play superman one time?
CG: OH MY THROBBING PHLEGM LOBE, WHO GIVES A BARFING FUCK ABOUT THAT.
CG: JOHN EGBERT, YOU HAVE ASSASSINATED MY PATIENCE.
CG: ADIOS LOSER.
EB: wait!!!!!!!!!!!!!!!!!
EB: get back to me in a couple minutes, ok?
CG: SD;LKFJSD;LKFJSDLFKJ;
CG: FINE.
Or to completely change the course they thought they had:
CG: YOU'LL GET PLENTY OF DIRT ON ALL THIS FROM ME IN FUTURE CONVERSATIONS.
CG: TEDIOUS CONVERSATIONS.
CG: ONES I'VE ALREADY HAD WITH YOU.
CG: WHERE YOUR DEMEANOR WILL GRADUALLY BECOME INEXPLICABLY AND REVOLTINGLY FRIENDLY TOWARDS US.
CG: AND SO I GUESS IT JUST WAS KIND OF INFECTIOUS AND NOW WE'RE ALL BUDDIES I THINK.
CG: IT'S REALLY WEIRD.
CG: THIS HUMAN EMOTION YOU CALL FRIENDSHIP.
EB: friendship isn't an emotion fucknuts.
CG: SEE, THAT IS WHAT I'M TALKING ABOUT.
CG: YOU'RE MUCH MORE TOLERABLE A GUY THAN I THOUGHT AT FIRST, OK JOHN?

You and your rabbit friend approach a gentleman wrapped in a fine white cloth, and his courageous cohort, a young man riding a great gust of wind!

You are so impressed, you forget what you are supposed to be doing.
…The aspect even passively doing this around him as if with a will of its own, distracting another's sense of direction to keep him safe:
You consult your proud long snout for assistance with the hunt. You pick up the maddening scent of one of the young graveyard stuffers. You are sure it is the same one you slaughtered earlier, and yet his stench remains, confounding you from every direction. It is as if THE BREEZE which carries it deliberately seeks to obfuscate the odor's origin. Your thoughts become more murderous with each blustery taunt.
I didn't always understand the appeal of John as a character, ranking him in the middle of my liked characters list. But after a while, I suddenly noticed how enjoyable he was for the things his conversations did to others, making his pesterlogs some of the most enjoyable to read. I wrote the following two years ago, in a character rankings thread, back when we knew jack shit about the import of classes and roles:
I didn't really see why I should think John was such an amazing character until I realized his consistent effect on the other party. He's goofy and doesn't really understand anything, but he understands just enough about his friends and others to make cutting, hilarious, almost unintentional insights that can change people for the better, even if he's off the mark. It's not what he says himself, but what he brings about in others that makes him so great to read. I mean, if you wall him off from everyone else… he kind of fails.

That's why I take issue with the complaint of protagonist syndrome, here. John is very little by himself, but enhances all the characters around him immensely. Imagine if John were doomed to stay the least powerful and/or game-advancing of the kids and trolls combined; notice how little that would do to the story, or his beneficial role in it.
And yet at the same time, this comes with a vulnerability. As one who invites change in direction, John is very susceptible to invitations to change in his direction. Almost unfailingly, anyone who hands him a quest can expect him to rocket off in that direction with wild abandon.
GC: SO JOHN 4CTU4LLY D1D WH4T 1 S41D?
TG: yeah
TG: im telling you
TG: huge pushover
TG: he will do what you say
TG: unless it happens to be for his own good
TG: then all a sudden hes a tough nut to crack go figure
GC: NOW 1 F33L K1ND4 B4D
Now, wait a minute. Unless it happens to be for his own good. What does that mean??
EB: you can't track down through time WHAT YOU CAN'T CATCH!
EB: pchoooooo!
TG: oh god did you just blast off
EB: no…
EB: but that would have been sweet if i did just then.

TG: did you blast off like a spazzy douche yet or what
EB: yeah, of course!
EB: there was no way i wasn't trying out this sweet ride.
TG: god dammit what do i have to do to make you believe me
Think about what Dave's having a hard time getting John to do. Whenever people tell him to fly off in this direction or that, or give him a goal, he almost always dives straight in.
But Dave is telling him to stop. Not an alternative direction, but to cease his direction. To stay belted down to the ground.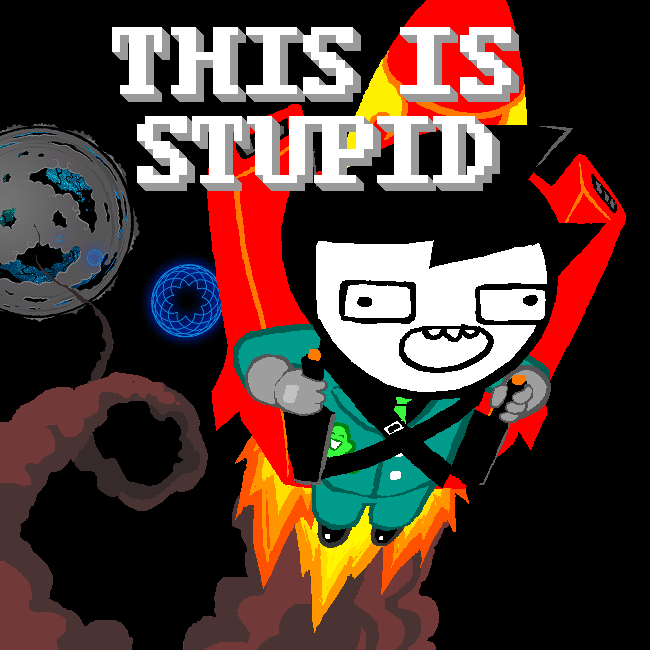 It didn't work very well!
Until…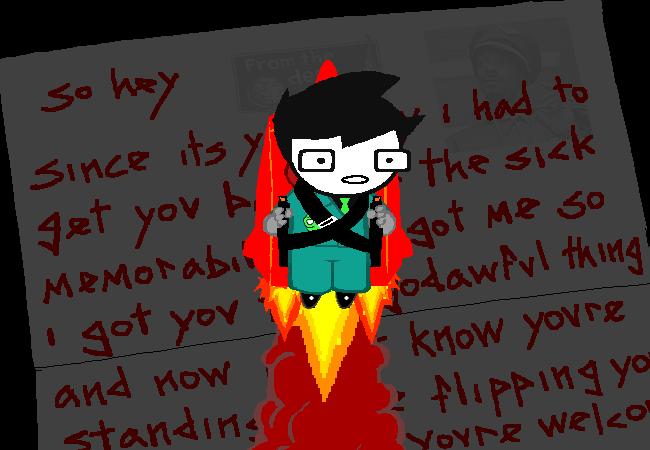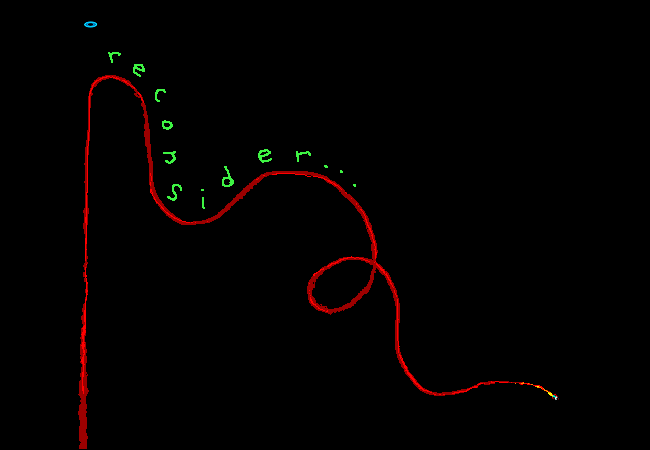 Now, what just happened, exactly?
TG: so you believe me then
TG: about future me
TG: and like
TG: him turning into a floating sword bird
EB: um…
EB: ok, i don't know anything about that…
EB: but it doesn't matter!
EB: you're my best bro, and if you say not to go then i won't go.
Wait, wait… as makaristmas pointed out, we should back up a minute on that jetpack. How did John get that jetpack working in the first place?
GC: 1 GOT TH3 COD3S FOR 4LL TH3 OTH3R 34RTH CR4P STUCK 1NS1D3 1T FROM YOUR FR13NDS
GC: FROM D1FF3R3NT T1M3S 
GC: WH3N TH3Y W3R3 F33L1NG COOP3R4T1V3 
The items tying John to the ground, keeping him from blasting off in a rocket pack to his death, were objects belonging to his friends! His bonds! Just like the trust in Dave that got John to reconsider once he had.
TG: did you blast off like a spazzy douche yet or what 
EB: yeah, of course! 
EB: there was no way i wasn't trying out this sweet ride. 
TG: god dammit what do i have to do to make you believe me 
TG: fist bump my future self til i got bloody knuckles and write you an even sappier bday note in my own blood 
What stopped John wasn't Breath. What stopped him was Blood! And his ability to appreciate Blood alongside Breath is an essential part of the path to becoming a fully realized hero.
As opposed to Tavros, who latched onto an impossible goal in Vriska's destruction, failed to reconsider, stop, or inform his friends of what he was doing and ask for help, leading to his downfall.
How do we know what Blood entails? Well, let's look at Karkat.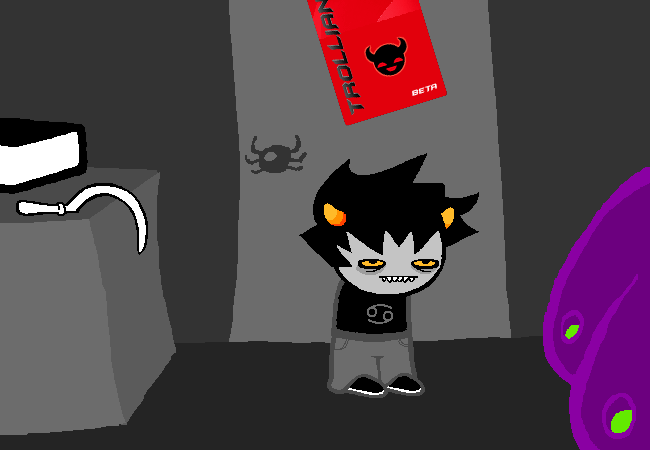 From the introductions of each troll in Hivebent and onward, Andrew knew what their game roles were, what they meant, and used said roles to shape their personalities.
His blood color, or different blood colors for trolls in general, was an afterthought as far as Andrew was concerned. And we already know what a Knight does, a powerful warrior class that exploits the flow of their aspect as a weapon. So, what themes have coursed through Karkat's arc from the beginning?
You have a passion for RIDICULOUSLY TERRIBLE ROMANTIC MOVIES AND ROMCOMS.

You've got AMBITION. You were meant to be a bigshot. To be in charge of something huge and really important, and to be totally ruthless about it.
Leadership? Romance?
CG: I WONDER WHAT KIND OF SHITTY THING I DID TO DESERVE SUCH AN AWFUL BEST FRIEND.

[…]

CG: FRIENDSHIP ISN'T A DISEASE SHITSPONGE.
CG: IT'S LIKE…
CG: A MISTAKE.
CG: A BIG JOKE OF NATURE.
Friendship?
CG: I AM A HATCHED LEADER AND YOU KNOW IT.

CG: ARE WE NOT FRIENDS ANYMORE BECAUSE OF STUFF I SAID.
TA: eheheheh you LIITERALLY a2k me that every tiime are you jokiing.
Friendship and leadership, leadership and friendship. Hmm!
Oh, and another thing:
CG: ACTUALLY WHY DON'T WE MAKE A PACT TO DELETE THIS ONE FROM OUR LOGS, I'M JUST SHUDDERING HERE SCROLLING UP AND READING THIS.
TA: yeah ok.

AG: Ok, then I'll ask Jack.
CG: NO, JACK WON'T TELL, I MADE HIM PROMISE HE WOULDN'T TELL.

CG: OK, LOOK.
CG: LET'S JUST AGREE TO NEVER BRING IT UP AGAIN.
CG: THE STUFF I WAS BABBLING ABOUT EARLIER.
EB: yeah, well we never really talked about it in the past, so i guess we do agree to that.

FCG: HOW'S THIS FOR A PACT, EVERYBODY.
FCG: PAST KARKAT ONLY TALKS TO PAST JADE FROM NOW ON, AND THE TWO OF THEM CAN BICKER LIKE SHITTY LITTLE CHILDREN FOR HOURS/YEARS RESPECTIVELY.
FCG: AND FUTURE KARKAT ONLY TALKS TO FUTURE JADE, AN ARRANGEMENT WHEREIN ONLY INTELLIGENT DISCOURSE TAKES PLACE BETWEEN TWO CIVILIZED, MATURE, GROWN ASSED ADULTS.
FCG: IS THAT TOO MUCH TO ASK??????

CCG: HEY ASSHOLE
CCG: CONSIDER OUR "PACT" OVER
PCA: wwevve got a pact
CCG: NOT ANYMORE
CCG: YOU ARE DEAD TO ME
Pacts. Pacts, promises…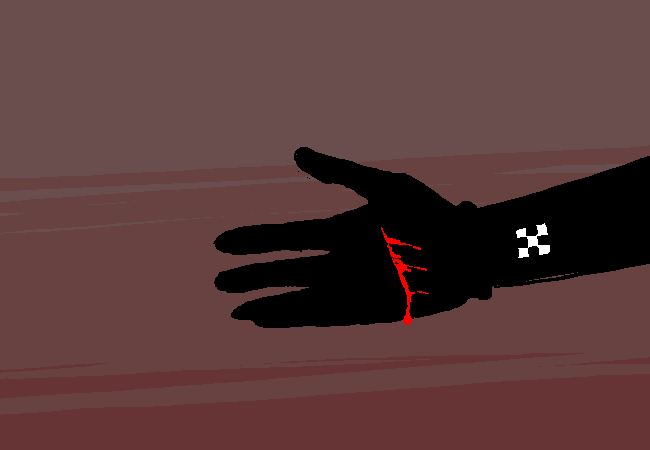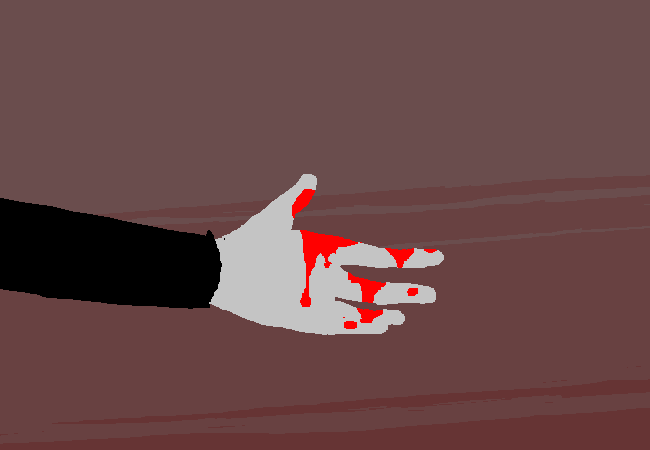 And alliances.
See the big picture coming together?
Karkat's two major accomplishments during the trolls' session were:
Forming a

blood-inspired alliance

with Jack Noir to overthrow the Black Queen.

Getting the two teams to work together to advance and defeat the Black King.
CG: NO, I'M YOUR LEADER BECAUSE OF MY INCREDIBLE TACTICAL SKILLS AND MY ABILITY TO MOBILIZE AND MOTIVATE A BUNCH OF USELESS PEOPLE TOWARD A COMMON GOAL, AND BECAUSE I'M EXTREMELY AMBITIOUS AND INTREPID. ALSO BECAUSE LEADERSHIP IS IN MY BLOOD. WE'VE BEEN OVER THIS.
A Knight instinctively exploits their aspect, and Karkat instinctively exploits Blood: Relationships, bonds, promises, pacts…
PCG: GAMZEE ISN'T SUPPOSED TO GO CRAZY.
PCG: I THINK IF HE DOES
PCG: IT MEANS WE FUCKED SOMETHING UP.
PCG: IT MEANS *I* FUCKED SOMETHING UP.
PCG: HE'S MY RESPONSIBILITY, I HAVE TO MAKE SURE HE'S SAFE.
And responsibility. The shackles that anchor people to the world around them, and to each other.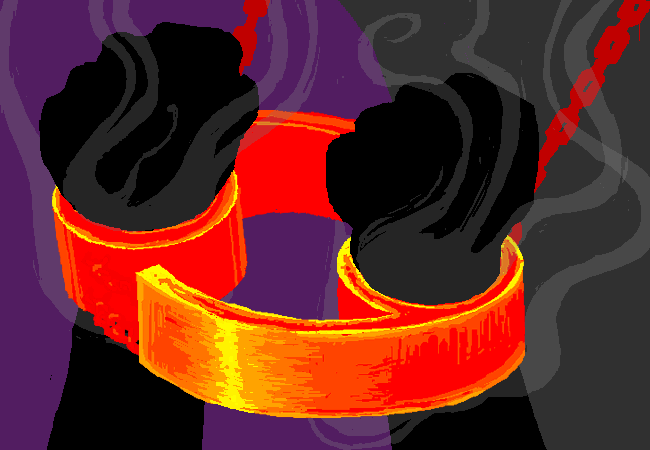 That dichotomy between the aspects - spiritual freedom and detachment, versus worldly ties - rings very strong between John and Karkat in particular.
John has a reputation for smoothly handling almost any shocking revelation virtually unscathed:
TT: Anyway, your grandma managed to run away when she was quite young. Maybe it was a traumatic event like dog murder that prompted her to flee, who knows.

TT: Whatever the case, her bro stayed behind. The guy must have been seriously immune to witnessing fucked up shit, because he went on to be a famous comedian. A real kindly old cornball. A nicer guy you couldn't hope to meet, they say.
Which forms a very heavy contrast to Karkat, who has a reputation for flipping out about everything, no matter how insignificant:
TA: KK dont fliip your 2hiit about thii2 but iim 2ettiing you up two play a game wiith 2ome people.
CG: WHY WOULD I FLIP MY SHIT ABOUT THAT.
TA: becau2e you fliip your 2hiit about everythiing.
CG: WELL WILL YOU LOOK AT THIS.
CG: HERE IS MY SHIT, AND YET IT REMAINS UNFLIPPED.
CG: JUST SITTING THERE ON THE SKILLET, GETTING BURNED ON ONE SIDE.
CG: IT'S A MIRACLE.

CG: YOU'RE GETTING OFF ON THIS AREN'T YOU
CT: D —> Uh
CG: IF YOU ASK ME FOR A TOWEL I AM GOING TO FLIP MY SHIT RIGHT OFF THIS FUCKING METEOR
CG: IT WILL JUST BE ME, SPINNING AND SPINNING AND SPINNING INTO ENDLESS NOTHING, SCREAMING

KARKAT: EVERYBODY OUT OF THE GODDAMN WAY.
KARKAT: I GOT A LAB FULL OF HUMANS, A MOUTH FULL OF YELLING, AND A TORTURED PSYCHOLOGICAL PROFILE FULL OF TOTALLY HYSTERICAL EMOTIONS AND UNAIRED GRIEVANCES AT PRACTICALLY EVERYBODY.

CG: I WAS THE GUY IN YOUR POSITION, TO MAKE ALL THESE CLONES, AND FRANKLY IT ALL KIND OF FREAKED ME THE HELL OUT.
EB: huh…
EB: yeah, i guess now that you mention it, i am finding it all a little strange…
CG: OH, ONLY JUST NOW???
CG: FUCK YOU ARE FAST, I HOPE YOU GOT THE MAD BOONBUCKS TO PAY OFF THOSE SPEEDING TICKETS.
EB: no, no, i mean the ghost stuff and paradoxes are one thing of course…
EB: it's something else.
EB: it's just…
EB: this is really weird…
CG: WHAT'S SO WEIRD ABOUT IT.
EB: well, normally humans hatch…
EB: from like these slimy pods.
EB: then we wriggle out as a little pink larva.
CG: OH REALLY.
CG: HUH, MAYBE WE HAVE MORE IN COMMON THAN I THOUGHT.
EB: (hehehehehehehe)
And it's not just in a mental and spiritual sense; that dichotomy applies in a physical sense, too! John and Tavros were both the first ones to fly within their sessions.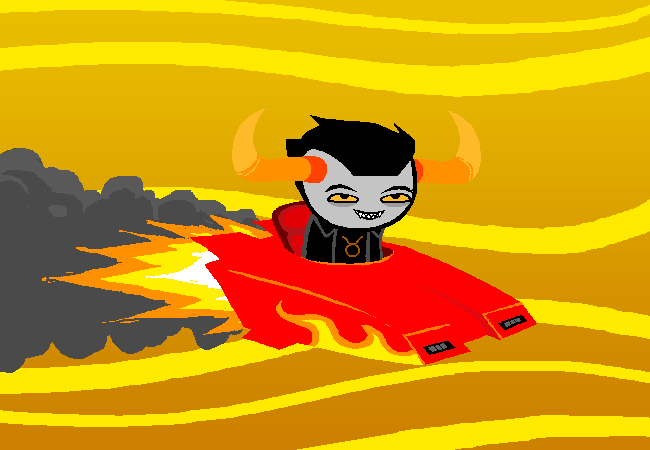 Whereas, with Karkat:
EB: it was long! and windy. but a lot of fun.
EB: i really like flying, it's so much fun.
CG: OH, I BET IT IS JUST THE BIGGEST FUCKING BLAST A GUY CAN HAVE WITHOUT A PAIR OF SHAME GLOBES SECURED IN HIS TWO TREMBLING FISTS.
EB: you… haven't tried it?
CG: EVERY DOUCHE GOT TO FLY BUT ME, EVEN THE CRIPPLE.
He hasn't flown, and not even his God-Tier form had wings!
KARKAT: PPPFFUUUUUUUHHHHHHH……… WHEEEEEEEEEEEEEEEEEEEZE…
ROSE: Hm? 
SOLLUX: kk, what the fuck? 
SOLLUX: were you h0lding your breath that wh0le time? 
KARKAT: YEAH 
KARKAT: SO? 
TEREZI: OH GOD, YOU DUMMY 
TEREZI: YOU DONT 4CTU4LLY H4V3 TO HOLD YOUR BR34TH WH3N YOUR3 B31NG QU13T! 
KARKAT: OK YEAH 
KARKAT: I MEAN, OF COURSE IT SOUNDS OBVIOUS WHEN YOU PUT IT LIKE THAT 
John was prone to sleeping even when it wasn't wise, and Tavros spent much of his session sleeping to cope, prancing about detached from the world without any responsibilities.  Karkat was so bound to his responsibilities that he barely slept across their 600 hour session!
FAG: Hey, I'm gone. I just think you should relax. 
FAG: You were wound up so tight through the whole adventure, and now here in the present you're a8out to explode. It's insuffera8le! 
CCG: EVERYBODY, DID YOU HEAR THAT?? SUPERFUTURE VRISKA HAS AN IMPORTANT LIFE LESSON FOR US ALL. 
CCG: WE DON'T HAVE TO WORRY ABOUT OUR PRESENT RESPONSIBILIES AND OBLIGATIONS!
CCG: BECAUSE AS IT TURNS OUT, IN THE FUTURE ALL THAT STUFF ALREADY HAPPENED. WE'RE OFF THE FUCKING HOOK! 
CCG: TIME TO RELAX. LET'S ALL CRAWL INTO OUR COCOONS AND GET BUSY STIMULATING OUR AUTOEROGENOUS SHAME GLOBES. 
CCG: FIRST ONE TO START A WANK FIRE GETS A SHINY BOONDOLLAR. 
CCG: THIS IS AN ORDER FROM YOUR LEADER. 
FAG: Hahahahahahahaha. 
CCG banned FAG from responding to memo. 
A Blood player is tied to his environment, his friends, the living world around him. Responsibility, duty, and loyalty keeps him on the ground, focused on the practical and unimaginary. Whereas, a Breath player retains a level of detachment, flying above, past, and through the obstacles and demands of emotional reality. And at Breath's peak: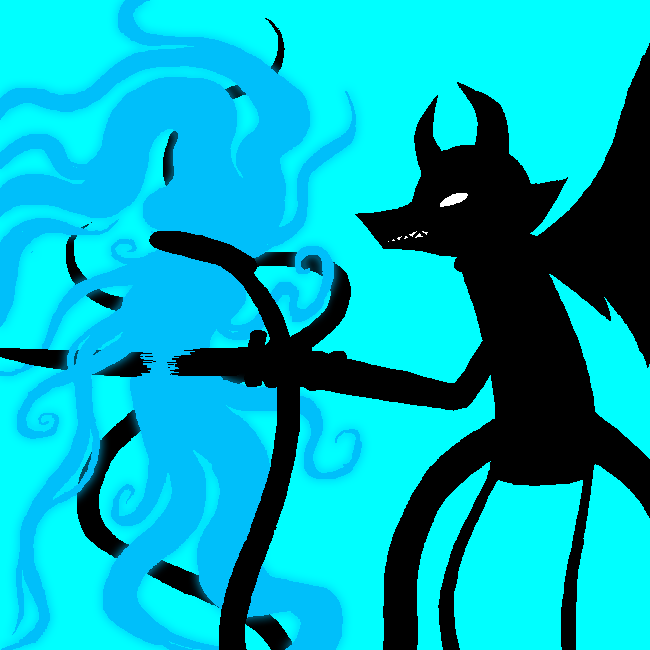 Not even physical reality can touch them!
To use Blood as a weapon is to shackle yourself with allies, bonding people together and uniting their wills. To invite change in Breath: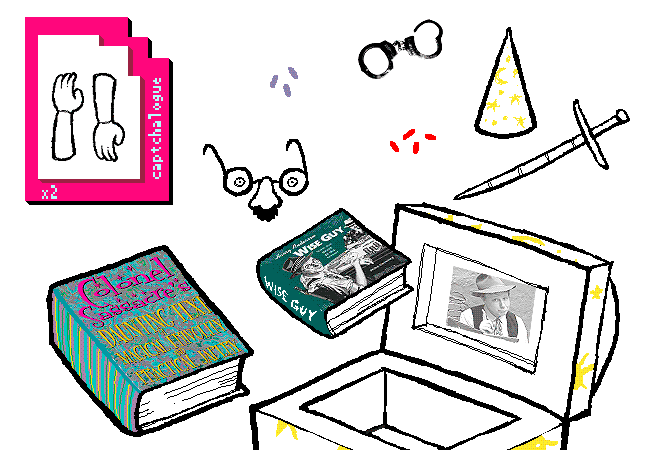 Is to use misdirection and escape!
AG: Roll your dice. Make your move.
AG: Advance or a8scond!
AT: i CAN'T ABSCOND,
AT: tHERE'S NO,
AT: uHH, aBSCONDING PLACE,
AG: 8ut a8sconding is what you do 8est!
AG: I 8n't managed to cloud a scenario yet you couldn't squawk out of in a 8lazing trail of cluck8east feathers.
AG: You cannot hope to 8eat Tavros Nitram in an a8scond-off.
AG: He is simply the 8est there is!
It's quite harmful to a Breath player to feel trapped, to feel boxed in, whether by the shackles of the physical world or those of relationships:
JADE: but youve been so testy, as if youre committed to not having a good time
JOHN: well, maybe i'm just getting a little tired of being stuck on this lame boat!
JOHN: don't you think it's gotten kind of old?
JADE: yeah, i can see how you might find it a little slow here
JADE: i dunno, i havent minded much… maybe its different for me though because i used to live all alone?
JOHN: oh sure, i'm sure it's GREAT for you. you get to spend your days smooching and breaking up with dave sprite and what not, and you can shrink down to any old planet you feel like, any time. whereas i have to make this whole big deal of ASKING you to shrink or unshrink me, and…
JADE: but i dont mind doing that any time!!!
JOHN: i know, but you think i want to bug you about that at the drop of a hat? when you're busy and on dates and stuff? i just happen to have respect for something called PERSONAL BOUNDARIES, jade.
Whereas a Blood player may remain desperately stubborn and obsessed with their bonds, both the ones they have and the ones they've 'lost':
CG: ARE WE NOT FRIENDS ANYMORE BECAUSE OF STUFF I SAID.
TA: eheheheh you LIITERALLY a2k me that every tiime are you jokiing.

To spread his message throughout the world they took to the seas in the vessel of legend known as the First Ship. It was said their love went beyond the four quadrants, transcending the grid entirely. Whatever that nonsense actually means.
In fact, as you saw hints of just above with John: lashing down a Breath player or keeping a Blood player away from their bonds, for extended periods of time, could lead to them inverting their aspect!
After all, in the right context, Blood can be a Breath player's greatest weakness:
AT: aFTER A CERTAIN MOMENT, i SPENT JUST ABOUT EVERY WAKING HOUR BEING ASLEEP,
GG: wow why did you sleep so much???

AT: iT WAS JUST A BETTER WAY TO BE, mORE PEACEFUL AND FUN AND,
AT: i GUESS,

AT: tHERE WAS SOMETHING THAT HAPPENED THAT WAS INCREDIBLY TERRIBLE,
AT: aND SAD,

AT: aND MADE ME FEEL TERRIBLE AND SAD AND SLEEPY, sO i SLEPT, a LOT,
One Breath player cooped up on a ship and deprived of romance to sate his hormones, another Breath player lashed at the hip to Vriska Serket and deprived of his free will, you could find that John and Tavros both displayed the propensity to act like a Mage of Blood (active Understanding) and a Thief of Blood (active Stealing), respectively: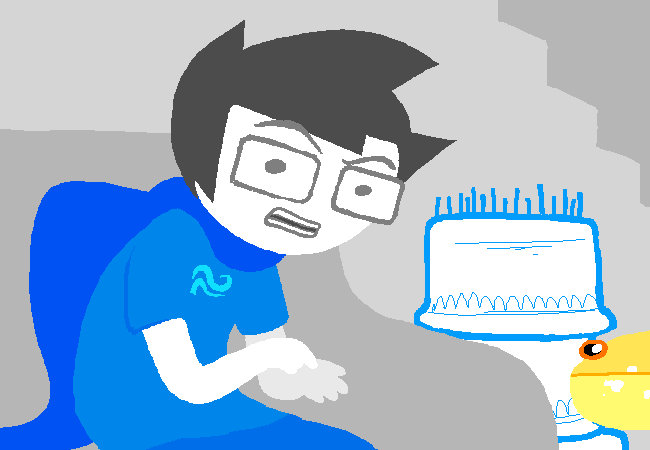 JOHN: HE DEMONSTRATED HIS MASTERY OVER HEAVY MACHINERY! wow, he can operate a crane! i am thrilled by the exploits of this pedantic weenie.
JOHN: i guess he's actually like cage's estranged sidekick? almost like the robin that batman never realized he had.
JOHN: now that i think about it, this movie was always an oddly poignant tale of bromance between cage and cusack. just two bros separated by destiny, waiting to be united.
JOHN: when they finally come together to kick some ass, it is arguably more moving than when he reunites with his wife and daughter!
JOHN: i wonder if i'll think that scene sucks now too? it used to move me to tears, but now i'll probably think it's so lame, i'm almost afraid to watch it. maybe i should try to leave at least SOME memories untainted.
JADE: john you are kind of sounding like a crazy person here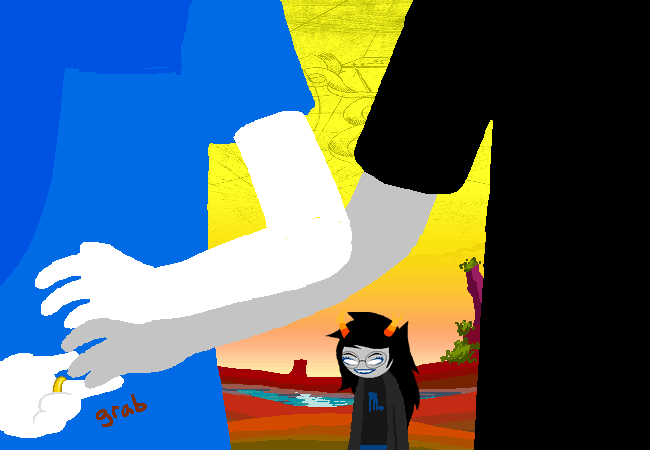 TAVROS: i SAW IT FIRST,

TAVROS: (wE had a deAl,)
JOHN: (quit it!)
TAVROS: (why Are you sUcH a liar,)
JOHN: (shut up. i'm keeping it.)
TAVROS: (thiS is noT cOOl,)
TAVROS: (you're PrevenTing joYful human sTYled matrimonY frOM happEning,)
JOHN: (yeah right. like she would even say yes.)
JOHN: (i don't even think she's really your girlfriend. i think you made that up!)
TAVROS: (wow, no, wOw,)
TAVROS: (you wEnt thERE,)
And in turn, Karkat seems to have finally been broken by his estrangement from Terezi, offering to fly off with Meenah away from all his friends on a free, lonely quest to mount a strike against Lord English in the void.
(EDIT: While John's ghosting of the traits of his inverted role were ephemeral, Tavros may very well be headed to disastrously and fully inverting his role to act like a Thief of Blood… or more specifically, to act like Captain Hook instead of Peter Pan. For more on the importance of this, read my Tavros Nitram in Scarlet theorypost!)
Which should sound vaguely familiar, come to think of it. After all, the dichotomy between Breath and Blood is represented by more than just its respective Heroes.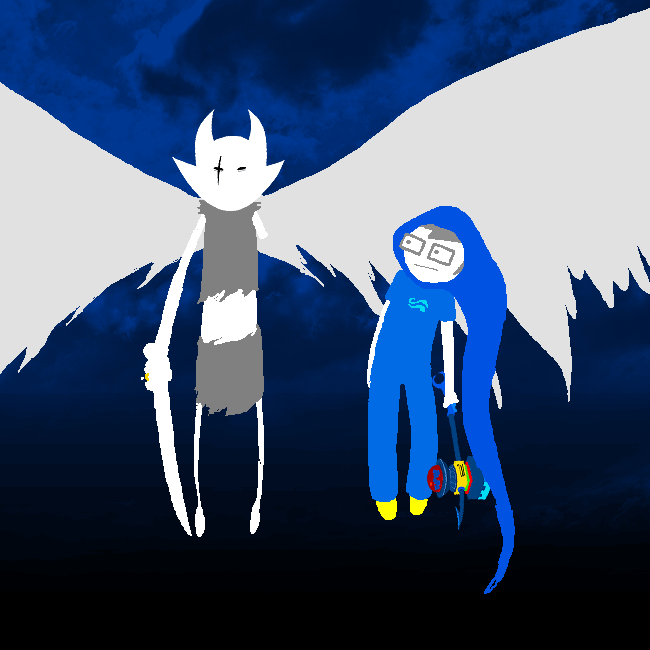 The Parcel Mistress, bound to Breath, dedicated to delivery, direction, and quest.
And the Warweary Villein, inspired by Blood, who knew that the democratic wills of a thousand pawns united were enough to topple a King.
The cruel massacre of an army of allies was enough to nearly break WV and turn him away from leadership, on to wandering and frivolity, a Wayward Vagabond. The loss of her home in its cruel destruction, and later WV and her other friends on Earth, was enough to forge PM into a hardened warrior, willing to journey in a straight line unceasing for over a thousand days, all for dedication to a quest that was eventually no less than self-appointed. Blood to Breath.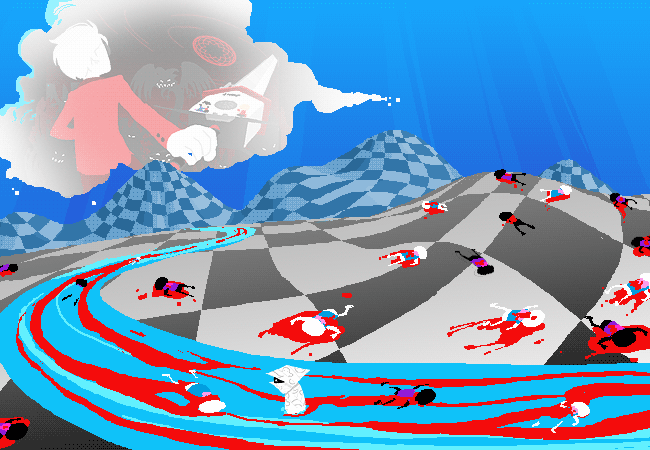 WV?: Survey casualties.

Everyone is dead. 

Everyone except you.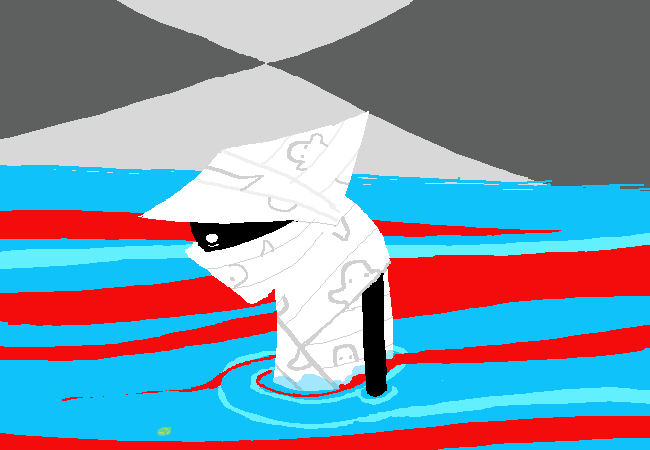 Your RAG OF SOULS begins to soak in the BLOOD OF THE FALLEN. You suppose it could be poetic? 

No, instead you think it is just sad. 

You were very foolish to believe you could be a leader of men. Look at what bearing that flag has wrought. 

Perhaps one day you will find something new to bear. A burden befitting of the peasant you truly are. 

Oh my what's that shiny thing in the water.
Unity to delivery.  You think the strangely unmixing colors of the blood and water in that river were a coincidence?  :)
WV has an absurd talent for uniting people and defusing situations diplomatically: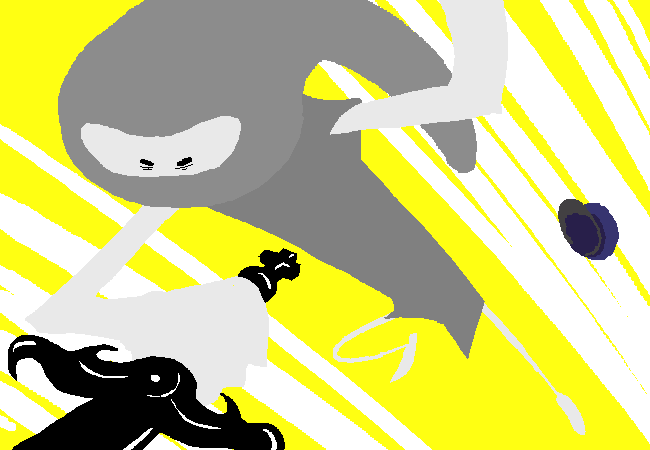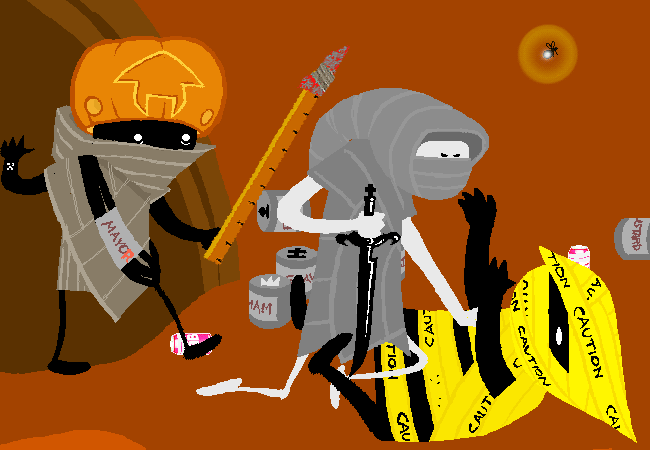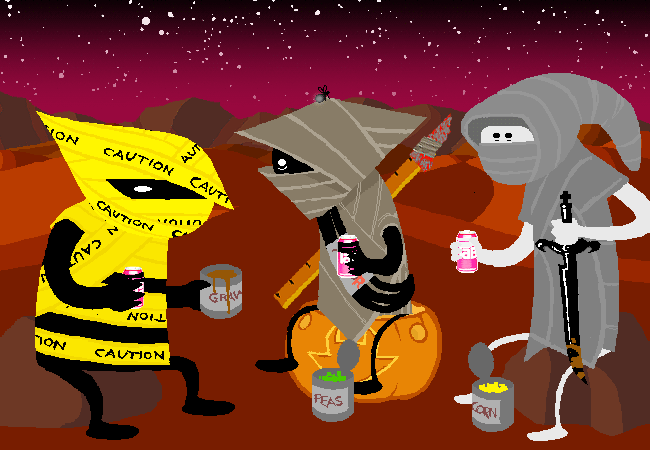 You settle the dispute in the only way you can presently imagine how to settle a dispute. With cans of lukewarm sugary liquid and centuries-old rations. 

If only you had access to some means of heating things up. 

But it matters not. You warm yourselves in the glow of this human emotion called friendship.
And the Ring he made his quest item was especially fitting… because the RINGS symbolize BLOOD!  <— (CLICK AND READ for Blood's symbolism in the Rings and Red Miles, and how Karkat might eventually be able to use one! This link also covers how Jack Noir, if anything, might represent something of a Prince of Blood.)
Blood is also symbolized by Flags, especially red ones, as WV once carried. These represent the tight and necessary interplay of Breath and Blood: after all, a flag needs wind to fly, and even Breath-borne mail starts and ends at destinations: mailboxes marked by red flags!
You wield your TRUSTY KNIFE. 

It is actually a… 

You're not sure what they're called. It's an old rusted one of those red mailbox arm-swing flappy doodads, either for letting you know there is mail in the box, or maybe for alerting the mailman to outgoing mail to be collected. You don't know, really. You've wrapped a little piece of cloth around it for the grip. 

It is useless for opening cans.
(They're called flags!)
Also of note is how at the beginning, questless:
Karkat's 'red flags' were tied down, unable to blow in the wind, his role unrealized.
You don't have time for fancy poetry. It's almost as useless as those arm-swing flappy things on mailboxes, assuming you even knew what those were, which you don't. Trolls don't have mail. Mail is almost as useless as poetry to them. Poetry is the swing arm flappy dealy of words, and mail is the red tilty lever doodad of giving people shit. 
Teamwork is one of Blood's greatest strengths, mighty amidst scattered bands of individualistic heroes. Will is power against reality, and Blood can unite the strength and diversity of myriad wills to a single goal. (And as a complete failure of a Blood player, Kankri was ineffectual and dwelt on the meaningless instead of truly helping his pre-Scratch team of trolls… thus, they were not a team at all, and failed to unite to succeed in their session.)
CG: YEAH. THAT'S THE ROSE HUMAN.
CG: SHE'S APPARENTLY PRETTY SARCASTIC.
CG: IT'S IN MY NOTES.
GA: You Have Notes On Them
CG: YES.
GA: I Guess
GA: Thats Why Youre Our Leader Karkat
CG: NO, I'M YOUR LEADER BECAUSE OF MY INCREDIBLE TACTICAL SKILLS AND MY ABILITY TO MOBILIZE AND MOTIVATE A BUNCH OF USELESS PEOPLE TOWARD A COMMON GOAL, AND BECAUSE I'M EXTREMELY AMBITIOUS AND INTREPID. ALSO BECAUSE LEADERSHIP IS IN MY BLOOD. WE'VE BEEN OVER THIS.
GA: Statements Like That Are Also Why Youre Our Leader
But a team still needs that goal, a goal, some goal. A direction, inspiration behind which to unite their wills and plow forward through reality.
TT: That's why you're our leader, John.
EB: huh?
TT: Optimism through stalwart skepticism is a defect not everyone is lucky enough to be cursed with.
EB: that's stupid.
EB: i'm not your leader, i am your FRIEND, there is a BIG difference!
TT: Statements like that are also why you're our leader.

Yours is quite an inspiring story, actually. It's just a shame that all of your accomplishments will be so horrible.
But that's really beside the point.
YEAH, I ALREADY KNEW I WAS INCREDIBLE AND SPECIAL.
WHAT ARE YOU TRYING TO DO. INSPIRE ME. SAVE YOUR BREATH FUCKHEAD.
Unity can form a mighty band of brothers, who discover a common Direction to pursue. Or Direction can take the shape of an inspirational figure, allies naturally Uniting around their lofty goals. Either makes a team.
Like their functions in a living body, Blood and Breath are necessary for any group to unite and influence reality. Blood circulates and pulses through your limbs, delivering nourishment to each separate cell so they may act as one. But needs repeated infusions of oxygen, each Breath, each goal keeping the body driven towards its next. Without unity, individuals break off fragmented and without their collective power, towards separate desires like dispersing wind. Without a goal, a team stagnates and dissolves, unity suffocated as if holding their collective Breath.
Direction without Unity is folly, like Tavros's doomed charge.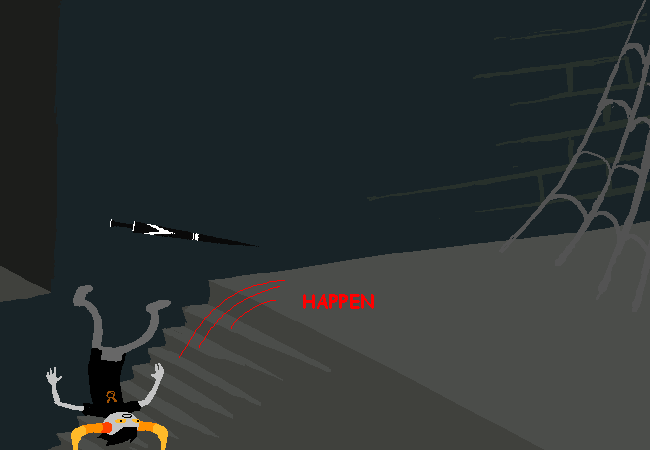 Which is why, even with a singular Breathy quest, you need Blood as a restraint, a safety net… or rather, a safety belt!
> John: Buckle up.

Safety is the most important thing.

> WV?: Follow suit.

This is why seat belt safety should always be paramount.

Remember to buckle up!
(In the main Homestuck discussion thread on the forums, people even joked at the time that Homestuck had secretly been a setup for a driving/seatbelt PSA all along. Looking back, one user even referenced the "Friendship is Paramount" mspa forum rule and asked:)
(If only he knew the metaphors potentially at play!  :D )
Unity without Direction falls apart, like the stranded trolls on their meteor after their reward was denied them. Losing interest in pointless trolling, scattering, the bustling cacophony from "[S] Past Karkat: Wake up." turning into the lonely desolation, abandoned possessions of "[S] Kanaya: Return to the core.", a team dissolving.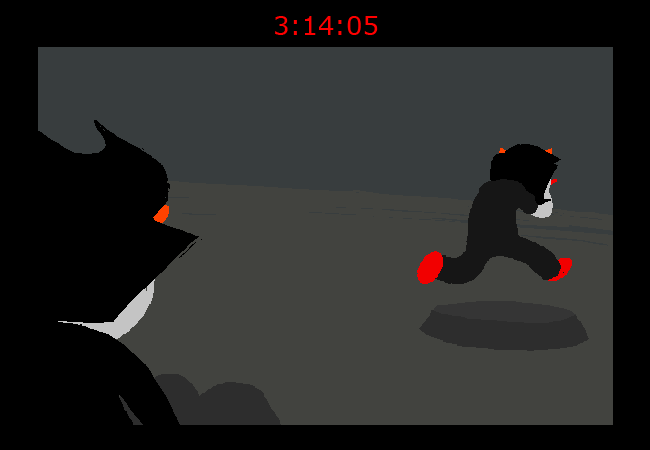 Without both Breath and Blood, defeating a foe like Lord English - one more powerful than any lone individual - is impossible!
But anyway… back to the aspects' more separate functions.
PM is an especially fitting example of Breath. After all, delivery is Breath!
"This thing right here? You have never seen a Parcel Pyxis? Incomprehensible! Okay I'll play your pretend game for a minute. It is a receptacle connected to our network of Pipes. We use them to send stuff to different places. They are fully intertwined with our customs and social practices.

If there is something we want, we chisel it on a Minitablet and drop it in. Who receives it? Hard to say! But if you encounter a Minitablet and you possess what is chiseled on it, it is considered only polite to drop it in the Pyxis!

Similarly, if you encounter a Parcel Pyxis that has a prize in it already, you are obligated to keep the prize for yourself! Consider it to be a gift to you from the Breeze. This is just the way things work.

Whenever one of us is standing near one of these, we feel compelled to give this little speech about it."

But you wonder where all of her sweet weapons went.

She indicates in the language of plush toy pantomime that she has no idea! They all blew away in the

BREEZE.
The presents and deliveries to and from John, the coincidences that lead people to and from him, the Breeze that flows through LoWaS and routes items to and from those who offer and ask… Breath is the surest distance between two estranged points. Where Space can see locations and traverse physical distances, Breath bridges the gaps emotionally, connects beings regardless of location. It flies above, outside, around the physical, detached from the plane of existence…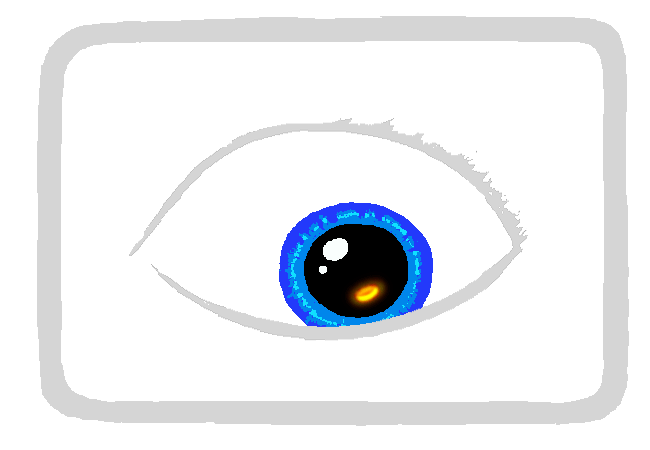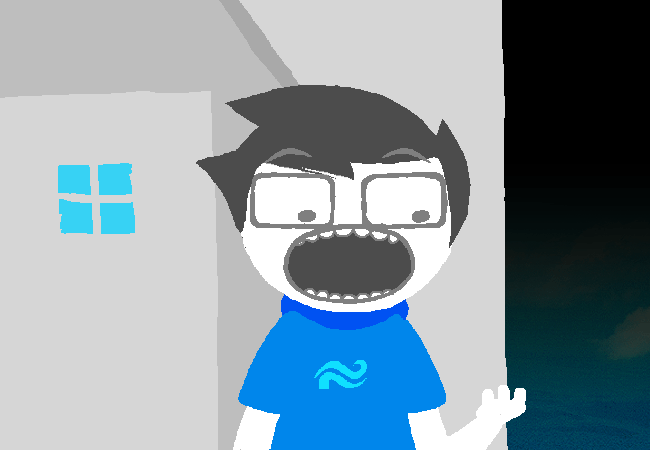 …and can deliver you something even from your dreams.
(The ring is real, likely one of the void rings of the post-Scratch session, cast into the Void somehow; perhaps by Roxy. But without Breath and will, it wouldn't be in John's hand.)
All this detachment and intangibility arguably ties in to a little Gnostic idea called "Pneuma". However, I know next to jack shit about mythology; the one who pointed to the connection was LilDurandal, who sent me the incomplete notes of a now-deleted post-in-progress she made after one of our conversations, some of which I'll reproduce here:
(Again, ALL OF THE FOLLOWING UNTIL THE BLOCKQUOTE ENDS is from LilDurandal, NOT ME, except where I made SPECIFIC NOTES in double-brackets!!!)
The Heart and Hope denizens are from gnostic cosmology, so I think it's fair to say that certain gnostic concepts are likely to be a Thing. This can get a little tricky to research if you aren't familiar with gnosticism - translators like to translate these two words into the same English word, possibly in order to spite me - but: The gnostics believed that a person is composed of three elements: body, psyche, and pneuma.

Psyche means soul…

and pnuema means breath or spirit.

Not that this is specifically a gnostic idea:

[And the very God of peace sanctify you wholly; and I pray God your whole spirit and soul and body be preserved blameless unto the coming of our Lord Jesus Christ. (1 Thessalonians 5:23)]

In gnostic systems, the material universe is the creation of the demiurge, a flawed creator god; in some systems, he is called Yaldabaoth. The material universe is imperfect and filled with suffering because it is the flawed creation of an inferior being, and the bodies and souls of humans are among the demiurge's creations. But the pneuma - breath, spirit - is a divine spark that does not come from the demiurge: it is immaterial, and the material world is its prison.

First, this might help clarify 'attachment' and 'detachment,' for those who are unfamiliar with the concepts.

From 'Little Gidding,' by T. S. Eliot

There are three conditions which often look alike
Yet differ completely, flourish in the same hedgerow:
Attachment to self and to things and to persons, detachment
From self and from things and from persons; and, growing between them, indifference
Which resembles the others as death resembles life,
Being between two lives - unflowering, between
The live and the dead nettle. This is the use of memory:
For liberation - not less of love but expanding
Of love beyond desire, and so liberation
From the future as well as the past. Thus, love of a country
Begins as an attachment to our own field of action
And comes to find that action of little importance
Though never indifferent. History may be servitude,
History may be freedom. See, now they vanish,
The faces and places, with the self which, as it could, loved them,
To become renewed, transfigured, in another pattern.
Sin is Behovely, but
All shall be well, and
All manner of thing shall be well.

Absence diminishes little passions and increases great ones, as wind extinguishes a candle and fans a flame.

The Breath aspect is dispassionate; it is the aspect of detachment, of freedom and independence, the immaterial, and the numinous.

Heroes of Breath have a distinct, and honestly rather unsettling, tendency towards what seems like calmness or detachment from events or information that most people would react strongly to. To put it lightly, they are prone to massive underreaction.

[[And physically, John now has the ability to dissolve into pure spirit, taking detachment from the world to a new level. - Boots]]

Their relative detatchment from the world around them can make them prone to fantasizing or to becoming distracted by their own imaginations, and to being a little out of step with what is going on around them.

Meenah told John she wanted to stab Roxy just to see what would happen; a few minutes later, John felt the need to tell her this:

MEENAH: nerd
JOHN: um.
JOHN: yeah, sorry.

And they can be inattentive to practical concerns.

But it also means they find it easy to go with the flow and to handle changing circumstances by being flexible (if not pliable).

=>How is it possible to die twice? What else is there to lose, after you've lost your life - what dies the second time that didn't the first?

Don't you think the dreaming dead seem peculiarly detached?

Don't some of them seem like they're missing something, somehow?

Consider the extreme detatchment of Jade's dream self when she is retrieved from death:

And our resident psychopomp says worldly concerns aren't the business of the dead.

In gnosticism, the psyche and the body are creations of the demiurge and remain in the material universe. Only the pneuma can escape it and enter heaven.

The Breath symbol is the Life symbol, slightly modified and flipped on its side.

[[ And Life is the raw energy to influence reality, something individuals lose when they depart to dream bubbles. - Boots]]

Lord English is the destroyer of pneuma.
WHOA!!! Thanks, LilDurandal! Now it may be speculative, but that's one hell of a revelation, there, if the broad ghost connection holds.
And, despite how uncertain it is compared to the rest… shouldn't it? After all, who started out as our Ghost-obsessed ghostyTrickster, and is now about as difficult to strike as the incorporeal?
To go on a wilder, more uncertain tangent, this also might play into his romantic arc with Vriska, and potentially Roxy… in the event that, for example, both of them happen to end up DEAD as ghosts. And then…
SALAMANDER: It's said the Heir will wake the denizen by playing a magical song only he can play, and when he wakes up, the Heir will meet the terrible beast face to face!

SALAMANDER: It is then that he will be offered The Choice. The nature of the Heir's triumph depends on what he chooses!
What if, like John's land focuses on delivery, and Hephaestus offered to undo/Fix something… his denizen, Typheus, gave him the Choice to Return something he'd lost? What if he has to choose which one to bring back to life?! Hoo, boy, would that be "choosing the nature of his triumph"… And it could even lead to him reviving the one who 'deserves' it, but pairing up with the dead one and having a ghost girlfriend. Except for weird later age-appearance issues, or…
Eh, ignore me on that. It's far-flung, random rom-speculation. :)
(EDIT: There's evidence now that John may make the fullest use of his role by rescuing Vriska from the center of a Black Hole!)
On to one of my last points. Something much more relevant.
Have you seen the series, Avatar: The Last Airbender?
Well, I won't go into ALL the Breath in that series. However, there's a very important, specific scene I'd like to share with you: the one where Guru Pathik, an excellent media example of a Sylph of Breath, teaches Aang to unlock his chakras (raw link, embedded here):
The entire 14 minutes are an excellent example of untying oneself from the more harmful ramifications of Blood, divesting oneself from worries, regret, shame, fear, and guilt in favor of detached optimism, acceptance, and enlightenment. Spiritual freedom, and the unquestionable happiness and power it brings…
With a catch. One you see with the very last chakra, at the 8:36 mark.
PATHIK: The thought chakra is located at the crown of the head. It deals with pure cosmic energy, and is blocked by earthly attachment. Meditate on what attaches you to this world. [Images of Katara appear before Aang.] Now, let all of those attachments go. Let them flow down the river, forgotten.
AANG: [Coming out of his meditation.] What? Why would I let go of Katara? I…I love her!
PATHIK: Learn to let her go, or you cannot let the pure cosmic energy flow in from the universe.
AANG: Why would I choose cosmic energy over Katara? [Aang throws his hands up.] How could it be a bad thing that I feel an attachment to her? Three chakras ago that was a good thing!
PATHIK: You must learn to let go.
AANG: I'm sorry, but I can't let go of Katara.
PATHIK: Aang, to master the Avatar State, you must open all the chakras. Surrender yourself.
AANG: Okay, I'll try.
PATHIK: Now think of your attachments and let them go. Let the pure cosmic energy flow.
Aang sees an image of him letting Katara go, and then a bridge that will lead him to Avatar State mastery. As he is being surrounded by energy, however, he hears a shriek from Katara. He runs away from the end of the road. This cuts his connection to the Avatar State, which drops him back to reality.
AANG: Katara's in danger! I have to go! [Prepares to exit.]
PATHIK: No, Aang! By choosing attachment, you have locked the chakra! If you leave now, you won't be able to go into the Avatar State at all!
Those worldly attachments are Blood! And Aang made a choice - a Choice, if you will - not to let them go, even though (as it cuts to at the end of the video) he feels he has no option but to try again later, in an attempt to protect what he loves. A dilemma he discusses in between, in a conversation with the wise Uncle Iroh:
AANG: Well, I met with this guru who was supposed to help me master the Avatar State and control this great power, but to do it, I had to let go of someone I love. [He and Iroh stop.] And I just couldn't.
IROH: Perfection and power are overrated. I think you were very wise to choose happiness and love.
AANG: [Earthbends again.] What happens if we can't save anyone and beat Azula? Without the Avatar State, what if I'm not powerful enough?
IROH: I don't know the answer. Sometimes, life is like this dark tunnel. You can't always see the light at the end of the tunnel, but if you just keep moving… [Aang earthbends the rocks away one last time. Iroh's fire blows out. He smiles.] …you will come to a better place.
A fully realized Hero of Breath must also understand and appreciate Blood, and is fully within his rights to keep and care for Blood if he so wishes. Just like a hero of Blood cannot remain so mired in the chains around him that he refuses to take another step forward, to appreciate the importance of a leap into imagination and ideals.
The nature of a Hero's triumph depends on what he chooses.
And what might John's most important, final role in the story be?
Well, as the nexus via which Breath changes, and one most likely to understand and rally the others behind the meaning of the Ultimate Riddle…
UU: it is the day whereafter the legendary octet of mUtUal progenitoriety will come together and heal a great breach in paradox space. 
UU: a day delivered throUgh eighty billion years and foUr distinct Universal instances worth of Unfathomable tUrbUlence. 
UU: and while the emerald eye of this storm is fixed in the abyss forever 
UU: today yoU are poised to escape its scowl once and for all. 
UU: by skaias gUiding light, yoU may leave behind its tUrning arms of bright coloUrs and mayhem, and secUre peace for yoUr cosmic progeny for all dUration. 
…who better to lead the heroes out of the Sun's reach, or maybe even to allow escape from Paradox Space altogether?  :)
— — —
The twelve Aspects encompass all the vectors through which reality unfolds. From my Ultimate Riddle post:
Space and Time are its physical fabric, from which power and flexibility are derived. Heart is the reset-spanning power of the unique soul and its potential to carve the ideas it deeply desires into reality, while Mind is the effect of choice and façade, of logic and thought on how events unfold. Light is what Skaia and Doc Scratch operate on: information, perception, communication, and the carefully placed circumstances encoded into reality to benefit individuals/causes in the form of Fortune, whileVoid is the domain of the Horrorterrors, causing destruction and obscuring information from view to forestall action or tempt interest, leaving misfortune in its wake. Breath is direction, purpose and quest, the drive and freedom to fly and move toward a chosen path on reality or send others/objects on paths of their own, while Blood is grounded in the bonds, unity, and suffering that glue people together toward whatever goals they may seek to effect into reality under their combined power. Life is the energy and optimism to fuel one's inclination and ability to influence existence, and Doom its curtailing, pessimism and the routes which lead to death and exclusion from the ability to affect that which exists - how Life's energy may be expended and exhausted in exchange for powerful effects on reality. Hope is one's belief in the breadth of the possibilities open to them for pursuit, for delivery into reality, while Rage is how one's perception of them is narrowed considerably through anger and fear.
Now let's imagine this in a more complete, visual way…
Imagine the empty fabric of possibility, dark and limitless.
Imagine hills and valleys, a complex dark geography expanding in the dark, literally growing and created. This is Space. Imagine moving your vision forward in a general direction in the 'sky' of this realm, perhaps side to side but always forward, more geography unfolding underneath you, unseen in the sea of black… some of it crumbling a little as you pass. This is Time.
Now, to cast aside the blackness… imagine luminous rays draping the landscape, allowing anyone to view its appearance, its grandeur, the shape of reality. This is Light. Imagine clouds interspersed between the rays, collecting and dark, obscuring the geography in places to unvisibility. Their presence ominous… but their mysteries tempting. This is Void.
Imagine now… a Spark. A colorful, small beacon floating in the sky, not bright itself but so important that the other light doesn't really matter. This Spark is a being, an existence, someone with the power to influence reality… and it grows in brightness, flitting about slowly but gaining speed as the raw energy to paint its will on the landscape of creation increases from infancy to a powerful, conscious, yet oh so small presence. This is Life.
This Spark is absolutely unique. Other Sparks will flit into existence nearby, in a similar fashion… just as important, varying in power, but every Spark is different, and this one is no exception. It desires different things, is enticed by others, and this determines its paths… imagine a few shadowy, wispy strands swirling out in the same color as the Spark, extending forward in different directions across Time, into the future… the paths the Spark is inclined to follow. Imagine it gliding along its path as foretold by its inclination, carving everlasting light in its color behind it, tracing a permanent path through the sky and reality. This is Heart. Imagine a shadowy wisp moving down and hitting an obstruction in the landscape, twisting out into a number of equal paths… splitting in a way that forces the Spark to choose, to twist and reorient itself, the way it touches the divide, portrays itself to the landscape, to careen down one path as opposed to another. A decision point, requiring consideration of the environment beyond its innate inclinations. This is Mind.
The Spark descends into an intricate cavern, perils and complexity, and suddenly its overwhelmed by the possibilities it might find. Shadowy tendrils of perceived paths spill out forward into the twisting nooks and crannies of the cavern, a carnival of opportunities ahead of itself so tempting that it's almost difficult to decide which to take! This is Hope. Then, the loud noise of a small, nearby cave-in frightens the Spark, the shadowy projections of its perceived options narrowing in its fear to a single, safe one, less importantly safe but more importantly what it perceives as the only option… This is Rage.
At one point, another Spark passes by, brimming with youthful energy and power but angry at the trialsome caves in which it was trapped. This other Spark decides to deal a blow to the cavern in turn… some distance away, it flares up and EXPLODES against the landscape like a burst of fire, leaving shattered rubble and its permanent light of its color as a mystic sphere of import and impact. The remainder of the spark drifts weakly out of the center of the explosion to wander the caves again, moving slower and glowing dimmer than before, never to shine as bright again after its powerful sacrifice. This is Doom.
Finally, after wandering and wandering through the caverns, a burst of wanderlust overtakes the Spark, and it projects a path that spirals up and up, straight up through the solid cavern ceiling, the beam of carved light behind it blazing through stone and matter without touching it… and the Spark soars out of the ground, farther up into the air than it's ever been, a path determined by its desired destination regardless of obstacles. This is Breath. And down below, a small sea of other sparks are flowing across the landscape, so close and tight to the floor as to actually touch the ground in places, linking together to weave beautiful, wide ribbons of pattern across the world of existence with their shared light. The Spark comes down and joins them, shackling itself to them and strengthening their cause… This is Blood.
And that, my friends, is how reality flows and unfolds.
Here's hoping you enjoyed this extremely long post on Breath and Blood! Below, (later, by editing this post), I'll try to explain how all twelve classes for Breath and Blood would function, and try to give you as many examples as I can from popular media of characters who fit each role. Check back later, or watch my blog: I'll be posting notices of any updates I make to the chart under the "Breath and Blood" tag.
— BREATH CLASSES — (TBD)
— BLOOD CLASSES — (TBD)
shizukateal reblogged this from bladekindeyewear