This is a theory I've had for some damn time:  Gamzee obtained, raised, and locked in the ectobiological coordinates for Calliope/Caliborn, an ecto-child of Jade Harley, Karkat Vantas, and (optionally) also Lil' Cal.

FOLLOW-UP ADDENDUMS: (Lord English's True Name), (Buckets and LE), (STEAK), (Echidna's (Abraxas's?) Bones)

Yes, this is a serious theory.  And it explains plenty:

EDIT:  Added MORE POINTS in smalltext! :D

His use of Aradia's Timeboxes shows us where Gamzee is hiding on the meteor:  Its future!  Since it eventually ends up where Calliope and Caliborn are, Gamzee could have wound forward past its entry and exit of the alpha session, free to mess around in peace.
Wherever and whenever Gamzee is hiding, he has to burn three years to match the ages of everyone else.  Why not spend those three years raising a cute little skull monster baby who just happened to come down on a meteor?  Once the child could fend for itself, Gamzee could have simply rewound back to when the meteor entered the alpha session, joining the others at the same age.
Someone raised Calliope/Caliborn, alchemizing(?) and setting up a bunch of equipment that they clearly do not understand, calling them 'jujus'.  (Separately from the official, timeloopy 'jujus'.)  When you take the timeboxes into account, the voided-out book, and the boxfuls of special stardust the cherubs were left to eat, Gamzee is the clear likelihood for that someone.
Many of Lord English's features have been explained in Caliborn, but one of the looming mysteries is why he has a tendency to HONK.  If Gamzee had raised him, this would be very clear!
A human/troll hybrid has the potential to be very alien, especially if one adds a corrupting element (the optional Cal) to the mix.  Of the human/troll hybrids possible, Karkat && Jade makes the most sense given their personalities, symbols, elements of clothing, quirks, and associated colors.  They are VERY similar to Karkat and Jade.  In fact, it makes so much sense that when UU gave us her first conversation, I had initially surmised that she was a future Jade/Karkat hybrid demi-troll!  (While it was eventually ruled out by her seemingly implying she was a troll, before the Cherub reveal, I still found it QUITE suspicious that the Karkat similarities were brought out in full force with her brother.)
ROMSPEC DISCLAIMER:  A Karkat && Jade ectochild is NO INDICATION that Karkat/Jade will be a final pairing.  In fact, it might mean the opposite, serving as the 'resolution' / 'cashing-in' of all the romantic foreshadowing between the two, and other odd coincidences like that BARK/KRAB/BRAKA code.
Why would Karkat and Jade be chosen?  Why, because of Gamzee, of course!  Do recall that someone locked in the ectobiological coordinates for John in his session, presumably one of the guardians.  If Gamzee serves as that someone for Calliope and Caliborn by getting into their session… why, perhaps while lurking around in the background and watching everyone pre-horrorstuck, Gamzee had observed Karkat warming up to Jade?  And perhaps, in his infinite wisdom whimsy, he decided it would be great if they had children?  Hm? :)
Caliborn is clearly a young Lord English.  Calliope is rather set to make an incredible sacrifice with her death, possibly facilitating the creation of all of Paradox Space.  As the individual responsible for the existence and nature of these two(ish) individuals, Gamzee would cement his position as the most important character in Homestuck!
EDIT: ADDITIONAL POINTS:
Boltstuck added some wonderful evidence:  "We know that Andrew likes to borrow from his past works;  Gamzee has already shown parallels to "Whistles: The Starlight Calliope" and there's a good chance of Caliborn/Calliope's origins being another call-back. — The comic centers around the titular Whistles, an innocent and well-meaning clown who's unfailingly loyal to his evil Master and goes into brutal, violent rages when said Master is hurt or threatened.  His Master is "unkillable" in that every time he is slain, a new version of him is spawned.  Much like with Lord English's multiple incarnations.  Toward the end of the story, Whistles's two fellow clowns find a way to prevent the respawning - but not before an infant version of the Master survives the attack and convinces Whistles to adopt and care for it."
According to UU: "UU: my species has never even had a home planet."  Never?! Life and sentience require rich diversity and millions of years to evolve.  Cherubs couldn't have evolved in the void, with nothing… therefore, it's most likely that they had a shortcut.  Andrew is implying that Cherubs were ectobiologized as a race, their initial seed population growing to spread throughout the universe.  And thus, they almost certainly had an external DNA source from at least one other sentient race.
Calliope and Caliborn have troll-like blood color variety, indicating trolls as a source race.  However, they have no horns - only human-like skulls - and their white-irised eyes are quite human as well.  Therefore, it isn't hard to surmise that Gamzee combined a human and a troll; almost certainly a boy and a girl, to mirror the combining of them into an androgynous body (like he's been doing with the likes of Tavrisprite), mirror normal m/f reproduction, and mirror the :o) and Do: mirthful messiahs that Gamzee once said were him all along.
The boy component is Karkat, hands down.  Caliborn is unbelievably similar to him, his perfect kismesis even:  Like Karkat, but worse in every way, incredibly powerful, and evil.  And Karkat's listed position is even in the exact spot between his friends that Lime would have been on the spectrum; his blood and Lime-colored blood might have been no more than a gene-swap away in the first place!
Jade is a bit tricker a choice, with circumstantial evidence like the colors, or Calliope's symbol's main component being a tower that looks like Jade's house surrounded by snakes (echidna), et cetera.  But it becomes incredibly clear by process of elimination:  Jade is the only plausible human girl Gamzee would have known and chosen, and no other human girl fits the symbolism well enough!
And finally, there's the narrative text here that was addressed at Jade as she stared through the fourth wall at LE's jacket:  "But you don't know it's a coat. That would only invite more questions. You don't know what it shields. Nor do you know whose shoulders it was meant to cover. If you knew that - if you even knew his name - you would understand terror no human ever has."  But that's strange, since "Caliborn" doesn't do the trick!  So, if this name alone is supposed to inspire terror in Jade specifically…  Think about it for a moment.  Were Gamzee to create a Harley-Vantas ectochild, what do you suppose he'd make its last and/or middle names to fit? :D  Even if Jade doesn't know LE's true nature, from a name like that alone (with parts of Karkat and Jade's names blatantly in it), I think Andrew could credibly claim that no human has ever understood the terror of having unexpectedly sired a child with a grumpy alien!

Am I right, or am I right?  :D

(Gamzee and Caliborn in the image arted up by my awesome friend doridachi!  Click here for a larger version of the gif.)  EDIT: I fixed the eyes I forgot to animate on the gif; the larger-version link will still link to the right one on all of them!

As cancersyndrome pointed out here, in the recent walkaround, Kurloz told Gamzee that their messiah awaits his servitude and TUTELAGE.

In other words, the first part of this theory is almost assuredly canon: Gamzee raised Caliborn and Calliope, likely too early for them to remember him.

What remains to be seen is their ectobiological components, which Gamzee was almost assuredly in a position to set.  If you read this theory and its linked follow-up addendums, the running supposition is that those components were most likely Jade Harley && Karkat Vantas && Abraxas, and optionally && Lil' Cal or some other unknown component.
In case you still didn't buy at least the first part of the theory, the recent update gives us this: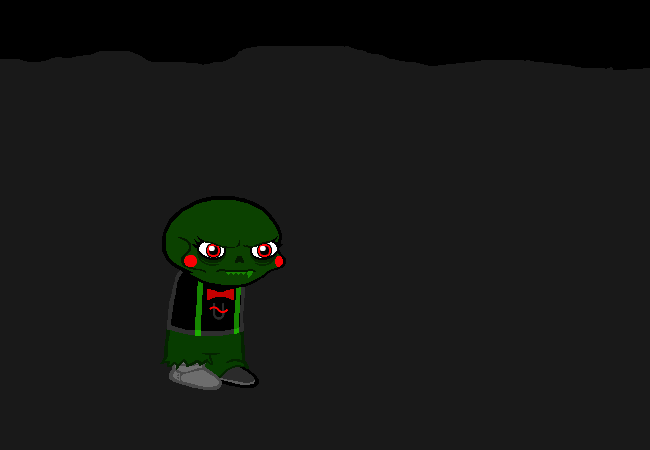 Calliope happens to have owned Gamzee's husktop.
(And I've seen this development has already caused this theory to make a few more rounds!)
Once again, the first part of this theory is assuredly canon, ie. Gamzee raising Calliope/Caliborn, a pair representing one who's been invited to have her Rage destroyed and another who's been invited to cause destruction through his Rage.  What remains to be seen is the second part:  whether Gamzee set their ectobiological components (which is likely), and if so, to what.